3 Cups Rice Puff Cereal
2 Scoops True Protein WPC80 in Salted Caramel
1/3 Cup Smooth Biscoff Spread
1/3 Cup Sugar-Free Maple Syrup
40g Lite Butter
50g White Chocolate, Melted
Method
Place the rice cereal and protein powder into a large bowl and combine.

Add the Biscoff spread, maple syrup and butter into a medium sized saucepan and stir on low heat until smooth and melted.

Pour this over the cereal mixture and stir until everything is evenly coated.

Roll into 20 balls and place into the freezer for 30 minutes.

Drizzle with white chocolate then allow them to set in the fridge for one hour. Enjoy!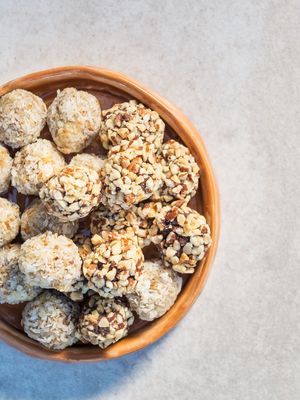 Discover more recipes on MyVision
MyVision provides members with hundreds of recipes which are easy to prepare and are suitable for the entire family.
Join us today and you'll have access to more great recipes like this.