1 Lemon - Pared Zest of Half
1 Small Bunch Fresh Mint
450g Baby New Potatoes
450g Fresh Green Asparagus
1/2 Tsp Sea Salt Flakes
3 Tbsp Olive Oil
2 Tsp Chopped Fresh Tarragon
150g Halved Radishes (Stalk and tail removed)
50g Pea Shoots
4 Tbsp Buttermilk
2 Tsp Dijon Mustard
1 Tbsp Lemon Juice
1 Tbsp Fresh Mint
2 Tbsp Chopped Fresh Chives
1/4 Tsp Sea Salt Flakes
Grinding of Black Pepper
Method
Heat the oven to 220°C/200°C.

Steam the potatoes, along with the zest from half the lemon and 2 sprigs of mint from the bunch, for about 20 minutes or until tender.

Cut the asparagus into approximately 5cm lengths discarding the ends, and put into a large shallow roasting sheet with the half teaspoon of sea salt flakes and the 3 tablespoons oil. Roast the asparagus for 10 -15 minutes or until tender and cooked through. Cook no more than 6-8 minutes.

Once potatoes are cooked, discard the mint and once the asparagus is cooked, remove the tray from the oven, tumble in the potatoes.

Add the halved radishes and the chopped tarragon, mixing everything together well. Leave to one side to cool down a little while you make dressing.

In a measuring jug, whisk together the buttermilk, Dijon mustard, lemon juice, chopped mint and 1 tablespoonful of chives, along with the ¼ teaspoon of sea salt flakes and grind of pepper. Add the dressing to the warm roasting tin and toss well to mix, combining it with the fragrant oil in the tin.

Arrange the pea shoots on a large plate and then add the dressed asparagus, potatoes and radishes.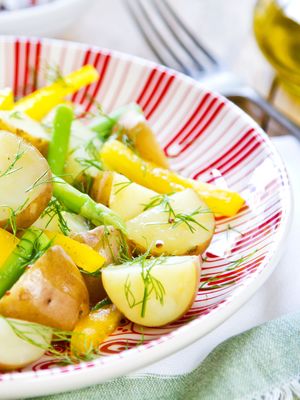 Discover more recipes on MyVision
MyVision provides members with hundreds of recipes which are easy to prepare and are suitable for the entire family.
Join us today and you'll have access to more great recipes like this.