95g Dried Apricots
125g Pecans
40g Raw Pumpkin Seeds
40g Dry Roasted Cashews
25g Shredded Coconut
1/8 Tsp Himalayan Salt
2g Cinnamon
30g Vanilla Protein Powder
10g Tbsp Coconut Oil
60g Almond Butter
Method
Soak the apricots in a bowl with boiling water and set aside for 5 minutes.
Combine the pecans, pumpkin seeds, cashews, coconut, salt, cinnamon and protein powder in a food processor and pulse 10 times, until fine and crumbly.
Drain (and save) the apricot liquid. Add the apricots to the food processor along with the coconut oil and almond butter.
Pulse the mixture while adding 1/4 cup of the reserved apricot liquid, keep pulsing until the mixture begins to come together like a dough.
Press mixture firmly into bar moulds or an 8x8 inch parchment paper lined baking dish. Cover and refrigerate for 1 hour.
If using a pan instead of moulds: After chilling, remove the pan and place onto a cutting board. Allow to sit for a couple of minutes to warm up, then cut into 12 bars. Store bars in an airtight container in the fridge for 2 weeks of in the freezer for up to 3 months.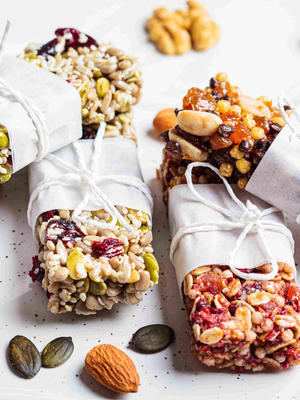 Discover more recipes on MyVision
MyVision provides members with hundreds of recipes which are easy to prepare and are suitable for the entire family.
Join us today and you'll have access to more great recipes like this.