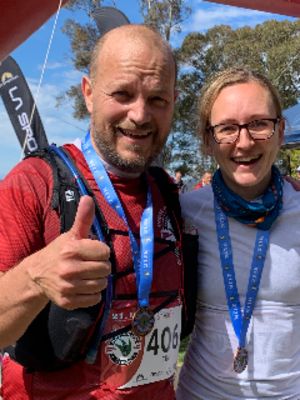 You Can Have A Successful Career And Smash Your Fitness Goals
Tim Foote is a busy man with plenty on his plate. He runs his own real estate agency - Belle Property Mosman - and is active in the local community. Tim makes time in his schedule to train and he's been a client at Vision Mosman for several years. While fitting in exercise can be a challenge, Tim manages to balance his work and family commitments and make his health a priority.
This year, Tim completed the Hounslow Classic in the Blue Mountains with several of his good friends, for the second time. The Hounslow Classic is extremely tough and certainly isn't for the faint-hearted. It's a 21km endurance event, with elevation gain totalling 1700m.
After consistently following his training program and focusing on some key areas for improvement, Tim achieved a 30-minute improvement on this personal best. While training for the event, he focused on hitting his macros and completing his food diary to get in great shape for the run. As a result of his hard work and dedication, Tim also recorded a greatly improved BioScan result.
He achieved:
5kg increase in skeletal muscle mass
1kg loss in fat mass
4-year reduction in BioAge
15% improvement in his overall health score
Congratulations and well done, Tim! We are proud of your hard work.
If you'd like great health and fitness results like Tim, give us a call 9968 3344.
Mosman Success Stories
Our holistic approach to emotions, education, eating and exercise has transformed thousands of people across Australia & New Zealand. Get inspired by the journeys of your latest clients.
Are you our next success story?
Give your goals the greenlight and join us. Book your free consult now.