Before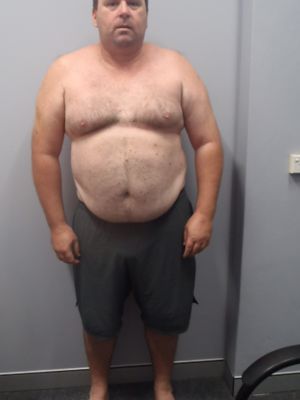 After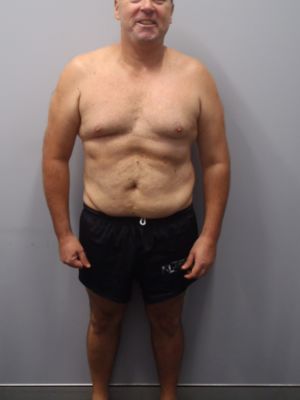 For a long time I had tried to lose weight by dieting and going to Gym's but after a short
period I was back where I started, over weight, tired and frustrated at the way I looked. I
was on blood pressure tablets and my family and Doctor were worried. Doing up my shoe
laces, walking stairs and even getting in and out of the car had me huffing and puffing.
Embarrassing really.
The initial weigh-in of 136kg was scary and I was worried about the road ahead. My first
session confirmed my fear when I couldnt even do the warm up on the rower and needed a
break and fresh air half way through my session. My trainer Ben kept me focussed on small weekly goals which were a big help. Dont think too far ahead. The weekly weigh-ins and my trainers regular SMS reminders and motivational text messages kept me motivated and on track.
Initially I was worried about telling my family and friends about my goals. I was pleasantly
surprised by the support I received. My work even started a give up/take up for the month
of March, where all staff had to give up something unhealthy and take up something healthy. My wife Kaelie was amazing and now walks and runs with me several times a week. During the 9 weeks I kept hearing 3 words over and over that pretty much sum up the success of my experience - Planning, Consistency and Accountability.
At the completion of the challenge I visited my Doctor. This was the first time I can remember that I was excited to see him. He told me my blood pressure was "perfect" which still brings a smile to my face. I am sleeping better (no snoring) more productive at work and overall enjoying life again. My wife and kids have been amazing in their support and we are doing more together now that I am capable.
I'd like to thank my Trainer and all the team at Vision Balgowlah for their support and giving me the chance to LIVE my life again.
Balgowlah Success Stories
Our holistic approach to emotions, education, eating and exercise has transformed thousands of people across Australia & New Zealand. Get inspired by the journeys of your latest clients.
Are you our next success story?
Give your goals the greenlight and join us. Book your free consult now.