Before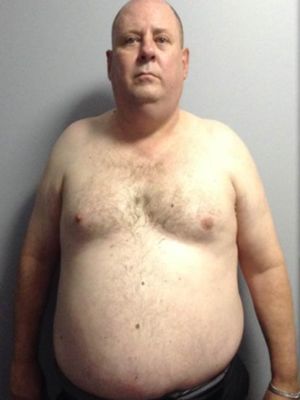 After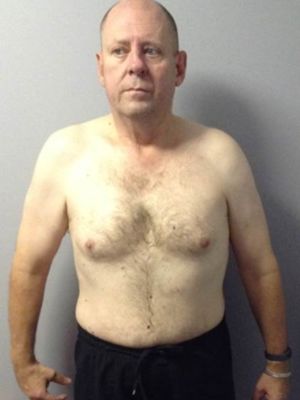 As I sit here looking at the photos, I am amazed and staggered at the change. I have shown family and friends and they are just blown away.

What a change from 15 months ago, I still remember clearly walking in to the studio and up the 4 stairs up the stairs ( assisted by a walking stick ) being out of breath and having to sit down. I was very unhealthy and unfit.

I was scared, nervous and excited. My previous experience with a gym had left me with mixed feelings.

From the very start, the support and guidance I have been given and continue to be given is unbelievable.

My job working in hotels and being constantly around great food and wine has been my life , so much so that my blood pressure was sky high, I was pre diabetic and grossly unfit. My doctor was in the process of scheduling a knee replacement and every joint in my body ( especially my legs and ankles ) ached.

From the very start, undoubtedly my trainer Kyle had his challenges with creating program that would fit in with one my weak joints and two, my fitness level. Kyle was always patient, motiving and supportive !!!!!!!

The barriers and excuses I had used in the past began to fade away and result's started to happen quicker than I or my doctor had ever dreamt possible.

As I approach my 56th birthday, I can honestly say it is the fittest I have ever been, I feel great, have more energy and joint pain has subsided to a point that I don't need pain killers. My blood pressure is perfect as is my blood sugar levels and best of all- no knee replacement has been needed! I am now either off or on a much reduced dosage of the cocktail of medicines I was on. The exercise has alleviated my joint pain and to quote my doctor it has also "pushed back the arthritis for at least another ten to fifteen years".

The lifetsyle program is a a well-rounded program that educates and has been very easy to follow, from the food diary to cardio and weights.

Results come from following the program , using the Food Diary ( an amazing tool ) and attending the seminars. The shopping tour was and is invaluable.

It's not easy , however easier than I thought it would be, and this is mainly due to the uncomplicated Vision Personal Training program and the support I not only receive from my trainer Kyle but the whole studio, from the owners Deni and Lena Curtis, the team of trainers, the other clients - always there with a "well done" and are a great support.

Present day my goals have changed and I still have kilos to loose. I have participated in Fun Runs, did the Bridge Run , and the feeling of finishing is unbelievable. Kyle never gave up , even when , I felt like throwing the towel in. Having Kyle do the Bridge Run alongside of me ( and 4 of my best friends ) was an experience that I will never forget. It was amazing to see the sea of red Vision tops at the event - different Vision studios all coming together to support each other. I didn't break records however, I broke my record just by taking part. I again this year am doing the City to Surf and the Bridge run and hope to.. no, WILL definitely better my times.

To anyone feeling like they need to take control of their health and fitness -with Vision Surry Hills and Kyle's assistance, support and motivation, you are never too old or too unfit, as I learnt. Meet your obstacles and challenges HEAD ON and conquer them one at a time.

I can only be humble and say thank you to Vision Personal Training Surry Hills. The team at Vision Surry Hills and Kyle were / are an investment in my future and one of the greatest investments I have made.
Surry Hills Success Stories
Our holistic approach to emotions, education, eating and exercise has transformed thousands of people across Australia & New Zealand. Get inspired by the journeys of your latest clients.
Are you our next success story?
Give your goals the greenlight and join us. Book your free consult now.