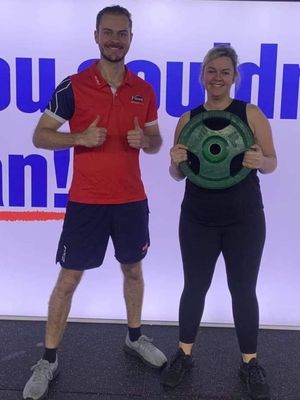 What made you join Vision initially?
I developed really bad habits during the Covid lockdown last year. I gained a lot of weight and was not doing any form of excercise.
What do you enjoy about training in our studio?
I love that there are no egos at Vision. The trainers are all great and super friendly. I also like the goal setting sessions, programming and classes.
How was the nutrition support useful in your health and journey?
I really learnt a lot about macros and changing my eating habits. The importance of high protein and limiting my calorie intake.
What challenges have you faced on your journey? How have you overcome them?
Consistency was my biggest problem and overindulging on weekends. There was also weeks that I did not lose any weight at all. With the support of my trainer and him encouraging me I sticked to my diet, tracked my food, started doing cardio and being active on weekends. It all came together in the end.
What results have you achieved so far?
I have lost 11.3kg I went from wearing extra large shirts to a medium. I am also down two pants sizes.
What are your future health and fitness goals?
To keep active, stay on track and lose another 9kg. I also want to work towards doing a pull up on my own.
What other areas of your life have been impacted by the changes you have made to your overall health?
My energy levels are higher and I am the most active I have ever been. Its been great for my mental health too.
What would your advice be to anyone looking to begin their own health and fitness journey?
It really is never too late to begin. Make sure you have a great support network of friends and a trainer to cheer you on. Trust the system and just keep going.
Surry Hills Success Stories
Our holistic approach to emotions, education, eating and exercise has transformed thousands of people across Australia & New Zealand. Get inspired by the journeys of your latest clients.
Are you our next success story?
Give your goals the greenlight and join us. Book your free consult now.