Before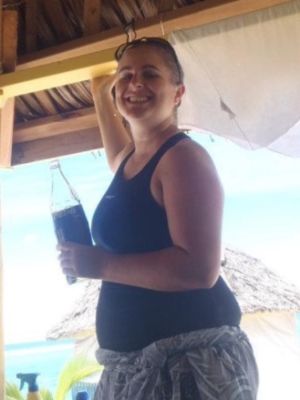 After
I joined Vision Personal Training Surry Hills because I was a liar. I was constantly lying to myself to justify the foods I ate and the amount of alcohol that I was consuming. I lied to make myself feel better about my clothes sizes going up.
It took 5 minutes in the Studio to be in tears and realise that joining Vision Surry Hills was going to be a defining point in my life and once again to find my self-worth.
My goal throughout my journey has always been that I wanted feel like a fit, athletic and healthy person. It has been no more complicated than that. I had no concept of how much weight I had put on over the years and it was time to change.
Since April 2014 I have lost 25kgs. My initial goal was to lose 10kgs and I thought I would feel fantastic, which I did! But it was also at this point that I realised that I had so much more potential yet to be fulfilled and that I had the capacity and motivation to keep going.
Throughout my time with Vision Surry Hills I have significant periods of time where I have been injured through playing soccer and have not been able to complete weight bearing exercise. The main ingredient in my success is that I have shown discipline in controlling and planning my eating and completing my weights sessions. The old adage of 'it's the 1 percenters that count' has genuinely applied to the way I have approached the past year. Every time I said no to little piece of chocolate, got myself out of bed at 5am, or gave myself a pat on my pack because I went for a walk at lunch time, made a difference to achieving my goal. There were no lies and there has always been accountability.
I have reached my goal weight and feel amazing as I face the next challenge of maintaining my current weight and body shape. It is a hard feeling to describe but I am genuinely happy with the way I feel about my body. I know that I have put in the hard work to feel this way but so much of this is attributed to the knowledge and support of my Trainer and the whole Vision Surry Hills family. I feel equipped and motivated to carry this forward to the next phase and continue being healthy and happy into the future.
Surry Hills Success Stories
Our holistic approach to emotions, education, eating and exercise has transformed thousands of people across Australia & New Zealand. Get inspired by the journeys of your latest clients.
Are you our next success story?
Give your goals the greenlight and join us. Book your free consult now.