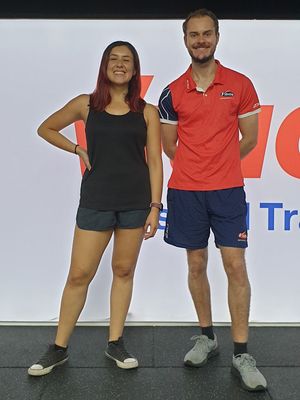 What made you join Vision initially?
I went for a hike and I found it too challenging. On the way I saw older people who looked not as tired as me and walking easier and faster than me. I knew that was a bad sign and needed to change if I wanted better health. I started to go for short runs but after a couple of months I wanted someone who could guide and teach me how to actually get better.
What do you enjoy about training in our Studio?
There's a place where you find all the support to always do it better. It feels great to have people around me who motivate me and celebrate my achievements.
Was the nutrition plan useful?
Absolutely, I've been learning to make better decisions when I buy food, control the amount of food that I eat and how to balance my macros during the day. Before I had this tool, I wasn't conscious about what I ate, now I'm fully aware of the quality and quantity of food that I need.
What challenges have you faced and how did you overcome them?
I used to eat a lot in restaurants and order takeaway, so it was very hard to track my macros accurately and stick to them. Now, I plan what I'm going to eat during the week the weekend before. On weekends I am more flexible but still trying to always be within my macros.
What results have you achieved so far?
I've lost 14 kg in about 20 weeks.
What are your future health and fitness goals?
I want to reduce a my fat mass percentage a little ore. A 4km run is coming up for Mother's Day, and I would like to be part of it as I have never participated in something similar.
What other areas have been impacted with these changes?
My self confidence has increased a lot and now I feel like I can actually achieve anything, if I work for it, I set goals and I have a plan. I can notice my changed mindset in my work and projects. Also, I feel happier now, I think relationships with my friends, my partner, my family have got much better.
What advice would you give to anyone thinking of starting this journey?
In my opinion, taking care of your own health is probably the best investment as it has a positive impact on other areas. Being part of Vision has shown me no matter the age, fitness level, life style, etc, everyone can always do it better and it's much easier if you're surrounded by supportive people and have the correct tools.
Surry Hills Success Stories
Our holistic approach to emotions, education, eating and exercise has transformed thousands of people across Australia & New Zealand. Get inspired by the journeys of your latest clients.
Are you our next success story?
Give your goals the greenlight and join us. Book your free consult now.