Before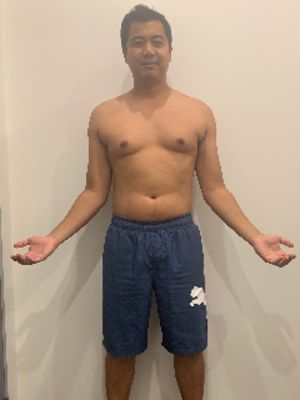 After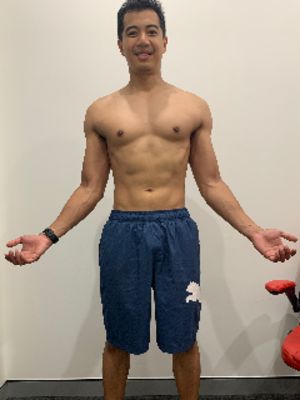 My journey began when I realised, I could no longer fit into the majority of my pants. Luckily, I was at a stage in my life where for the first time my work-life balance was tipped slightly towards life instead of work. I had been active in my youth and so started on a DIY training program. I never considered nutrition to be an important component and hence kept eating the way I normally had my whole life.
After a few weeks into my DIY program, I was not really seeing the results or improving in fitness level I had before. This is most likely due to my age compared to my younger days and body just not responding to what I knew would work. My wife encouraged me to try out a Personal Training program that provided a structured nutrition and training regime tailored to my needs. At first, I was sceptical as I didn't want to spend hundreds of dollars on myself and still not achieve the results I wanted. In addition, my past PT experience was mainly being told to push really heavy weights which resulted in being in pain for a number of days afterwards without much advice on recovery or how to increase my fitness level. Hence my PT experience is very limited and was traumatic in a way.
After a few months of encouragement and research by my wife I decided to give it a try with a short term goal to get slimmer, be able to run a short distance of 8km without stopping and do chin ups without looking like a wiggling worm hanging from a bar.
Depending on how I was tracking with the program and if I was able to commit, I had a goal to be able to do a half marathon and possibly dream of doing a marathon one day. Based on my research I found Vision to be priced within my budget and found a very convenient location at Crows Nest, literally around the corner from my office.
I made an online booking and shortly after (within minutes) Neil had called me up to arrange an appointment. After the appointment, I felt confident I could do the program as well as confident in the team at Crows Nest Vision. This was further confirmed after my first group session, which happened to be Burner with Robbie, who would become my Personal Trainer. After this first session, despite the challenge, the next day I was not in so much pain that I could not move (as I thought would be the case). This showed me that the training was catered for individuals who can push it as hard as they want/can and still continue with life and movement the next day (promoted enjoyment in exercise).
From the nutrition sessions, I learned how important it was to change my eating habits of not just what I ate but also when and how I ate my food. This made a huge impact with my results in the coming weeks. With proper guidance from Robbie in both nutrition and training I was able to achieve results I could not have dreamed of when I first walked through the studio door.
I have lost close to 10kg in weight, reduced to 14% BF from over 22%BF and have lost over 30cm combined from my chest, waist and hips. I am now able to wear a pant size from when I was 18 years old and have met my goals time and again. This has made a huge impact on my family, particularly with my two young sons becoming more active and seeing the benefits of eating well and staying active. They have started to perform better physically at school and hence started to eat and sleep better. My 8-year-old son decided to run the Blackmores bridge run with me without any encouragement from me and has been asking me to train him regularly. My wife and bother in law have since joined me on this fitness journey and the entire household is more healthy, active, slimmer and generally happier than ever before.
The knowledge I have gained on nutrition and training on my journey so far will remain with me for life. I do not think I can go back to my old lifestyle and aim to continue to make the healthy choices in life going forward.
Crows Nest Success Stories
Our holistic approach to emotions, education, eating and exercise has transformed thousands of people across Australia & New Zealand. Get inspired by the journeys of your latest clients.
Are you our next success story?
Give your goals the greenlight and join us. Book your free consult now.