Before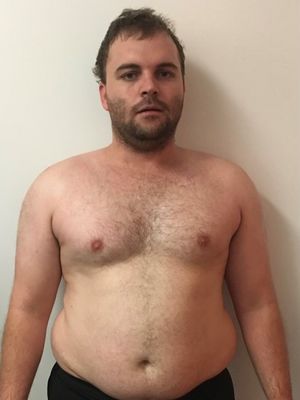 After
Before joining Vision Crows Nest, it was no secret to anyone who knew me that I was overweight and had a horrible lifestyle. Initially moving down to Sydney from the Central Coast I had stopped all previous exercise and replaced it with bad food and alcohol. I was horribly overweight and unfit. I never realised how big I had gotten until now when I look back at previous photos. I had joined many gyms in the past and never lasted more than a few weeks before giving up. I decided I wanted a personal trainer for motivation. Thankfully, my sister had been on her own incredible weight loss journey with another Vision Studio and suggested I give my local Vision a go.
I am so grateful that Neil paired me up with Robbie as we instantly clicked and got along well. Sharing passions for Football and refereeing meant Robbie was able to tailor a training plan for me that would keep me motivated and more importantly see me smash my goals. You will honestly struggle to meet a more passionate personal trainer in your life than Robbie. He loves his job and cares so much about his clients results. I honestly felt like he was on the journey with me every step of the way, from giving me custom training plans to do on my holidays, to helping with my nutrition. He also always went out of his way in his own time, offering to train with me in his spare time, in addition to our normal PT times.
It has been quite a journey but after almost 3 years I am super proud to be over 30kg lighter than when I first walked into the studio. I was embarrassed to have broken the 100kg weight before I joined and never ever imagined I would ever get to under 75kg. But here we are. It is not just about the numbers on the scales though, our goal setting went beyond just weight loss but moved to life goals. With Robbie's help prior to 2019 we set the goal for me to get back into refereeing. Something I always loved doing previously but had stopped due to my fitness holding me back. Robbie had me feeling confident I was fit enough to referee at a high level again despite my 3 year absence. In my first year back on the pitch not only did I enjoy being back out there and reclaimed my passion for the sport but I was also awarded Level 3 referee of the year in the branch.
Beyond Robbie and our amazing personal training sessions, the whole staff and community at Vision Crows Nest are amazing. It is not a normal gym environment; I have made some amazing friends and the group classes are made so much more enjoyable when you know you are in it together with your friends. I can't wait to keep smashing goals and honestly can't recommend Vision or Robbie enough to anyone who is serious about changing their life. I know it might sound like a lot; however, I can honestly say joining Vision and meeting Robbie changed my life, I am not only healthier and fitter but it has enabled me to achieve new goals both personally and professionally that would not have been possible without them.
St Leonards Success Stories
Our holistic approach to emotions, education, eating and exercise has transformed thousands of people across Australia & New Zealand. Get inspired by the journeys of your latest clients.
Are you our next success story?
Give your goals the greenlight and join us. Book your free consult now.