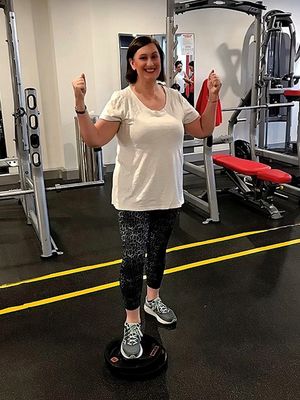 Prior to starting with Vision, my lifestyle was quite sedentary. I enjoyed the odd walk but didn't make it a priority. My eating habits were also not that great - I ate a lot or pre-packaged food and emotionally ate to ease my anxiety and or depression. "Blah", would be a good word to describe my health fitness condition.
I had started going to a big commercial fitness facility, but absolutely hated it. I felt very self-conscious and really felt that I didn't fit in. However, I knew I needed to change something in my life, I wanted to live my life to its full potential. So, after just six weeks at the big gym, I left there and looked into joining Vision as my good friend Frances had had really good results, and I was inspired by her achievements I was at an all-time low when I stepped into Vision.
When I walked up the stairs and into the studio, I felt a sense of relief. The first impact I had of the studio was its vibe of friendliness, there was plenty of equipment and it was also very clean. After meeting with Neil, I thought, I can do this! I did not feel overwhelmed, and I felt ready to begin a new journey. All of the trainers are fantastic at Vision, there is nothing more welcoming as a hello by your name when you arrive at the studio for your training session or free time. I have to say my trainer, Aaron, has backed me all of the way, he is very understanding of my work stress and anxiety, but knows he can still push me. I trust Aaron completely, I know he is well trained, I feel confident using the equipment, but still like the fact he is there to guide and support me. We made it through the worst part of Covid together and it's something I will always be thankful for.
Aaron also helps with my nutrition; we discuss recipes and different ways of cooking food. I no longer eat pre-packaged food; I make the majority of my meals from scratch. In fact, I am known at work for eating very healthy lunches and walking to work!
The number of results I have achieved are amazing. I am no longer morbidly obese, that's a big game changer it means I will live longer, what sort of price do you put on that? I can buy clothes off the rack, i.e. I no longer buy plus size clothing which means I can now buy from one of my favourite stores that I haven't been able to for many years. I am a grandmother now, and I have no trouble getting down on the floor with my baby grandson and back up again; I can bath him without any trouble. I no longer hate having my photo taken. My energy levels are much better and I really enjoy the walk to work every morning.
I'm looking at my next holiday, which will be a cape to cape walk in WA, I never would have considered a walking tour as a holiday prior to joining Vision. Overall, I have lost nearly 20 kgs, I still have a bit more to go, but now feel its achievable as I know I have the tools and support to get there. Even after all this I am still motivated. I feel motivated as I know I am still to reach my full potential. I feel motivated when a trainer notices my effort even though I don't train with them, that's psychologically very powerful.
I have made some lovely friends at Vision as well, and we are all there to motivate each other, not just at the studio but outside as well. Aaron also keeps me motivated; even though I have had a painful hip for the past six months he has adjusted my training and listened to my physiology therapist with exercises to improve the muscles in my hip. I would still love to be able to run, although I may have to settle for fast walking.
My 60th birthday is in December this year; my goal is to get to my goal weight by then and buy a sexy dress to celebrate both! Finally, I would recommend Vision as it's a life changing experience, particularly for those who are middle aged and feeling self-conscious. You are supported by truly wonderful people who want the best for you. Your success is their success too. You are championed all the way.
Crows Nest Success Stories
Our holistic approach to emotions, education, eating and exercise has transformed thousands of people across Australia & New Zealand. Get inspired by the journeys of your latest clients.
Are you our next success story?
Give your goals the greenlight and join us. Book your free consult now.