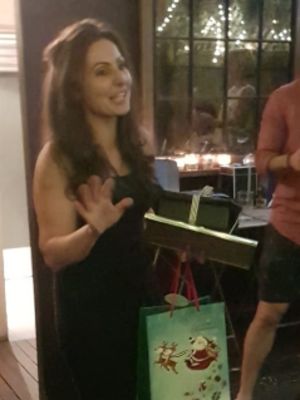 My Vision (Crowie) journey started with a simple intention to get my health and fitness back on track. Little did I know that I would gain much more! Reaching my fitness and health goals hasn't been easy but the support of Vision Crowie has made it achievable (and we've had a lot of fun along the way!). The most important achievements were not things I planned or thought about. For one, getting fit and healthy has given me the energy, mental clarity and confidence to tackle life's obstacles (that we all go through), with a positive outlook. Throughout my journey, I've met wonderful people, both fellow trainees and trainers, and have made lifelong friends.
I couldn't have achieved this without the absolute professional expertise of my awesome trainer Mez! Not only does she know what I like and how to push me to my limits, she has given me the confidence to continue to challenge myself with my training. She has gone above and beyond what a trainer is asked of. An example of this is her commitment to helping train for the half-marathon. She also ran the whole course with me, encouraging me, all the while having a smile on her face, taking random photos and cracking jokes along the way (while I'm just trying to remember to breathe...lol). This says a lot about the wonderful, positive and kind person that Mez is and I couldn't have asked for anything more in a trainer.
I work out at Vision Crowie because of the positive atmosphere. The trainers encourage and push me to believe I can, even when the journey isn't all smooth sailing.
My time at Vision Crowie has taught me to enjoy the journey and to be kind to yourself.
Crows Nest Success Stories
Our holistic approach to emotions, education, eating and exercise has transformed thousands of people across Australia & New Zealand. Get inspired by the journeys of your latest clients.
Are you our next success story?
Give your goals the greenlight and join us. Book your free consult now.