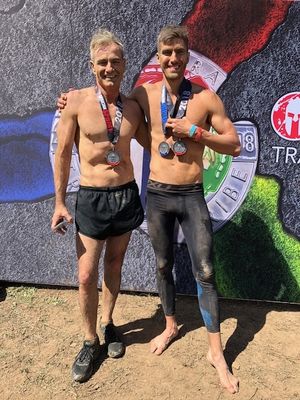 I am now coming to the end of my twelve-week journey with Vision Surry Hills. I started with Vision back in early January 2018. Initially with the goal of losing a few kilos off my stomach and aiming for the impossible or fantasy goal of losing 10 kilos in that short period of time. Thanks to the enormous, support, guidance, encouragement and knowledge of my Vision Personal Trainer, Kyle Sewell with additional support of everyone working at Vision Surry Hills, I have managed to achieve this "impossible" goal in under ten weeks. First and foremost, I have to say that I, have achieved this goal through the direction of Kyle in his ability to reveal to me the workings of the Vision programme. The programme offered by Vision has enabled me to do what I have done and to do this in the shortest conceivable amount of time.
What made me initially join Vision was that even though I am an active person this was not reflected in the way my body looked. I am an active competitor in swimming, running, triathlons and a regular gym participant. With all this activity I shouldn't look the way I did.
I was somewhat overweight carrying too much weight around my stomach and generally had no muscle definition. I was feeling frustrated and extremely disappointed in my lack of any progress no matter how many hours I put in a week in training and daily at the gym. I resented the fact that I did not look much different from the men I work and associate with who mainly lead sedentary deskbound lives. Especially hard, as a lot of the sports I do like swimming involves me having to expose my body to the public. There was nothing more soul destroying and a self-esteem demolisher than catching a glimpse of myself wearing speedos in a mirror or car window reflecting in all horror my DAD body, especially when I was about to compete or just at the beach. This would send me into a spiralling wave of depression. I was telling myself encouragingly and self deceivingly that I was, "Fat-abulous" and "sag-a-liscious" and not believing it and just feeling sorry for myself-and miserable.
BUT
That was 12 weeks ago. Now, because of Vision Surry Hills and the great help from Kyle Sewell - I feel fit, fifty and fantastic.
There are numerous reasons for this. Firstly, I have to say one of the major reasons for this turn around in attitude is the management of my eating habits. This was achieved by Kyle's organisation of my intake of macronutrients and his supervision of making sure I was staying on track with this by the food diary. This from the start, made me aware of every bit of food I was eating and exposing the culprit foods that were sabotaging the efforts I was devoting to exercise and yet gaining weight. What I was then able to do was get rid of these foods from my daily diet and eat more of the foods that are heathier for my wellbeing. This was no sacrifice as I didn't want to be eating these unhealthy fattening foods anyway and feel guilty, thus unhappy. All I have given up is eating foods that make me fat, have no nutrient value and have to burn off by lots of exercise just to maintain the weight I have. I have with the help of Kyle, replaced these with healthy 'guilt free' foods. Also, Vision have given me the information about when to eat before exercise to ensure that I am burning of fat and not being so to speak on a treadmill going nowhere only burning off the fat I have gained from the previous meal. The information from the food diary has enabled Kyle to work out the best possible eating plan for me, that has been successful in me reaching my goal to lose 10kg in that 12-week time. I would not have been able to do this without Vision and PT Kyle.
Secondly, is the weight training done in the studio. This where I have learnt the proper techniques of weight training and where Kyle continually pushes me beyond my comfort zone. This to me, I feel, ensures that I don't just go through the motions of lifting the same weights at the same level in a mindless state and thus going nowhere month after month of workout on my own. That has been my experience. Whereas with Vision and Kyle's undivided attention to my technique of training, I am being continually pushed to the next level.
Thirdly, what I have found to be very helpful in my weight loss journey and which has been the most enjoyable has been doing group cardio sessions. Again, I am pushed out of my comfort zone. In the classes you are put through a really good workout that involves using all your body in a sweaty fun shared environment with likeminded people. Sometimes I have been able to do 3 cardio sessions in one week. The results of these classes, for me is that, I have gained so much more energy. This is important to me and is a major gain I attribute to me coming along to Vision Surry Hills. This is a tremendous gain for me personally as is it means my fitness has significantly improved. Also, important it has given me a shared experience, being part of a group whose enthusiasm for fitness is infectious and thus encouraged me to do more to improve my health. An example of this is to give me the courage and fitness ability to be brave enough to take on the gruelling demands in doing the Spartan Warrior race. Motivated by the passion of Kyle for this event. Not bad for someone my age to begin doing.
Most importantly is the encouraging environment of the other staff at Vision Surry Hills has enabled me to see this weight loss journey to its successful conclusion - Thanks Vision Surry Hills- would not have done it without you. Mark
Surry Hills Success Stories
Our holistic approach to emotions, education, eating and exercise has transformed thousands of people across Australia & New Zealand. Get inspired by the journeys of your latest clients.
Are you our next success story?
Give your goals the greenlight and join us. Book your free consult now.