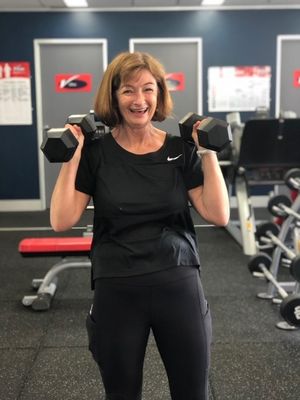 At 61 years old, I joined Vision in December 2018 with the goal of 10kg weight loss over 6 months. The achievement has been 18kg to date (maintained for over 18 months). Beyond the weight, I've improved my mental & physical strength and collected many learnings on the way. I've learned to enjoy weight training, good food & fitness and making it part of my life and I want to continue for the next 30-40 years. The weekly sessions make me accountable, it's about putting in the work.
Due to spinal fusion in my 30s & knee replacement at the start of 2018, I had to start very slowly to conquer my fear and build habit & routine. My goals were always small and realistic, like chipping away at a mountain. My ability to use cardio to burn calories and help with weight loss was limited meaning my food diary was accurate and consistent.
With support from my trainer Kyle & all the crew at Vision, they make the gym more fun and I've since developed a love of weights. The community support means being a part of a friendly, happy group of people.
My husband jokes about the same wife who looks very different and is definitely happy about the progress to date.
What's next? More health, fitness & well being.
Camberwell Success Stories
Our holistic approach to emotions, education, eating and exercise has transformed thousands of people across Australia & New Zealand. Get inspired by the journeys of your latest clients.
Are you our next success story?
Give your goals the greenlight and join us. Book your free consult now.