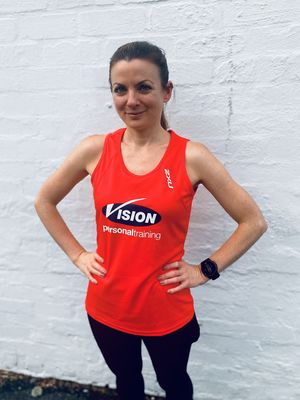 I started running many years ago, at my university gym. I spent hours on the treadmill racing my housemate Holly in a fug of sweaty gin fumes. Oftentimes my key takeout was the horror that my bum seemed to bounce more than my chest. Some days however I noticed I was able to pick up a bit of pace and sustain it longer than others. As I increased my distances and started finding it comfortable to run for an hours at a time, my mind turned to events. Whilst I wouldn't run my first event for some years (a 5km around Clapham Common in South London, where frankly I did not shower myself in glory), I started looking at the paces of women winning events and wondered if I could ever match that.
Over the years I would run many events, from 5km jaunts to gruelling marathons, but the demands of career, social life and laziness prevented me ever from fully committing to a training plan. This was reflected in my results, which always fell short of where I wanted to be and the potential I showed. I valued distance-covered and Strava milage over consistency and hurtled from zero to a hundred time after time, after time. I got away with this for years, until at 32 I succumbed to my first real running injury – a hamstring origin tendinopathy. It started as a niggle but graduated to near permanent pain causing my leg to buckle underneath me while running.
As we prepared for our first lockdown of 2020, I saw a fantastic physio who set me up with a rehab, and training plan. My very first! I stuck to it. Luckily, I spent lockdown with my live-in accountability buddy, my close personal friend Kyle. I can't say that I felt enthusiastic or motivated for each of my runs, but I did them. Through rain, hail and hangovers, I stuck to my plan. Not every run was a resounding success, and Kyle saw his share of roadside tantrums when a set of intervals didn't show the results I wanted. But over time, I could see an improvement in my performance. I stuck to my physio exercises, monitored my food and my hamstring did get better. It still twinged every now and then (still does actually) but by the end of the year I was back to half marathon distance. Not only that, as one of my weekend training runs, I finally managed my coveted goal of a sub-two-hour half (a PB of 1hr 53mins)!
In February this year I took part in the Sandy Point Half Marathon aiming to match my unofficial PB. I quietly wondered if I could get close to my target for the year of 1hr 45min. The week prior to the race I gave up alcohol entirely. A real sacrifice for me, one that lead to much Googling in the hope of finding advice to tell me I didn't have to. On the day I worked really hard, and no-one was more surprised than I when I sailed through in 1hr 42min – exactly 20mins faster than my last attempt on the the same course. I had to check my results a few times to make sure I hadn't misread them before my success sunk in and I let myself believe it was actually true! I couldn't have been more proud to have knocked my 2021 goal off in only the second month of the year, allowing me to move on to my 2022 goal ten months early – a sub 90-min half marathon.
To that end I'm now training regularly with a trainer, to ensure that strength training is part of my weekly routine. This year I have a full event calendar planned ranging from an 8KM fun runs around The Tan to my second Melbourne marathon. I'm tracking macros, and keeping my running as on-track as I can as part of my weekly non negotiables. Now that I'm back in the office 4-5 days a week, I'm making my runs a part of my nightly commute. It's certainly difficult, but I'm doing my best. When I check my runs YoY, I'm so proud of what I achieved in the last 12 months – I'm quicker and far more consistent. It's not the most mind-blowing revelation, but it turns out sticking to a plan and being consistent does get you results. And Kyle has not paid me to say that!
Camberwell Success Stories
Our holistic approach to emotions, education, eating and exercise has transformed thousands of people across Australia & New Zealand. Get inspired by the journeys of your latest clients.
Are you our next success story?
Give your goals the greenlight and join us. Book your free consult now.