Before
After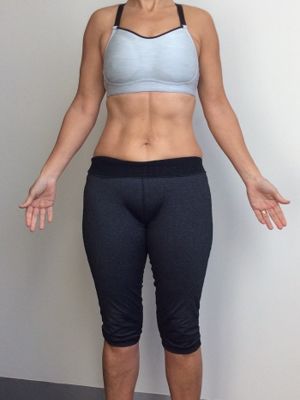 Before joining Vision, I had been running a couple of times a week and doing some form of group training on another one or two days. I felt I had a reasonable level of fitness and enjoyed the routine I was in. Due to changes in timetables and other commitments, I found myself searching for another routine to commit to.
A couple of friends had joined Vision and I saw first-hand the great results they achieved. They encouraged me to join too but at that time I suppose I just wasn't ready. Then as these things happen, I started to notice Facebook posts from Vision Camberwell. I hadn't realised one was in the area and one day decided to call. I arranged to come in and meet with Leigh-Ann and signed up then and there. I guess the timing was just right.
I am the sort of person, who when I put my mind to it, can make a commitment, so from the word go I knew I would do whatever was required to give the programme a chance. In the first few weeks things were moving along slowly and at times I was a little frustrated but after a short time all the education I was receiving just kicked in and things started to happen.
It would have been hard to not get caught up in Leigh-Ann's positivity, enthusiasm and her belief in me. I guess she has seen the programme work too many times not to believe it would also work for me. My initial goal was to lose 5kgs and I came close to doing this in my first 9 weeks. I was happy with what I did lose, but more importantly, I noticed big changes in my measurements and how I was beginning to feel. After a big holiday following my first goal session, I returned to the studio keen to see more changes. By my next goal session, I had almost doubled my weight loss and since then have lost more centimetres and feel so much stronger, fitter and leaner.
I always thought I had a good regular exercise routine and that I had a reasonably healthy diet but have since learned so much more about how to achieve my goals through food and exercise and have made major changes in my habits that I can now take with me into the future.
My latest goal, after much encouragement, was to run the Melbourne Half Marathon. This is something that would have never entered my mind before. The encouragement and belief in me, from not only Leigh-Ann, but every other trainer at Vision Camberwell, ensured that I went through with my commitment to run and it blows my mind to think that not only did I actually run the half marathon but I did so in a time I would have thought impossible and I crossed the finish line standing!
If Leigh-Ann had said we could achieve all of this when we first met I would never have believed her and actually still have trouble believing it now. What sets Vision Camberwell apart is the enthusiasm shown by each and every member of the team to not only their own clients but everyone who walks in the door. They have created such a warm and inviting atmosphere where it is hard not to feel the love!
Camberwell Success Stories
Our holistic approach to emotions, education, eating and exercise has transformed thousands of people across Australia & New Zealand. Get inspired by the journeys of your latest clients.
Are you our next success story?
Give your goals the greenlight and join us. Book your free consult now.