Before
After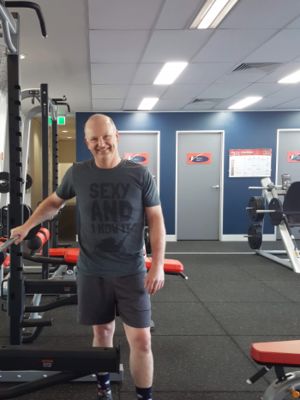 My wife Liz started with Vision and in a short time began to see results. As she began to implement her program I noticed changes to my body, and before long I had lost 14kgs by following Liz's macros, eating what she was eating and accompanying her on progressively longer and quicker paced walks. However, my BMI was still high and my ideal weight, as far as the medical ideal was concerned, seemed unattainable.
I had previously resisted joining with Liz as I have not found gyms to be welcoming or felt any positive gain from the experience, however Liz's enthusiasm eventually won through and I climbed the stairs to have a chat with Phil and Leigh-Ann. I committed to join for 6 months to see how Vision would fit into my schedule and since then have lost another 5kgs.
Prior to joining Vision, I had not noticed much difference physically - apart from my clothes feeling too big. I had blown out to size 38 pants and now my most recent purchase is a size 34. I can play 18 holes of golf without puffing (cart free), cycle up Glen Iris Road hill in 7th gear and perform endurance home-maintenance/gardening with fewer breaks.
The PT sessions have gradually improved my fitness levels without compromising my work performance. Jeremy, supported by John, Nick and even sometimes Phil and Leigh-Ann understand that because of my work, my hand and arms cannot be shaking after a weights session so tailoring the right intensity is vital. I am not too hung up on PBs but am happy that I am gradually becoming stronger and having improved posture and flexibility. I am getting more than 5 metres longer with each golf club with faster hip rotation and club-head speed.
After writing this I decided to have a go at running 10km in the Melbourne Marathon festival. I have not run before but with the training and increase in walking and fitness I felt I could give it a try and Liz was supportive and encouraging. I set off at my own pace had a little falter at about the 5km mark but was able to keep going. The walkway back to the MCG was tough and my legs were like jelly, but I made it. I must have been a bit mentally fatigued with 700metres to go as I decided to stop running and walk into the MCG. I was able to run to the finish line and was elated because I was a finisher for an event I thought I would never do. As a child I wheezed through school sports and cross country runs but after this event I just had sore quads for a couple of days.
I think this has taught me that even if you think you cannot or will not do an activity through the support and encouragement of others you can do pretty much anything within your physical capabilities. I would encourage others to extend their horizons and give a range of activities a go.
Thanks team.
Camberwell Success Stories
Our holistic approach to emotions, education, eating and exercise has transformed thousands of people across Australia & New Zealand. Get inspired by the journeys of your latest clients.
Are you our next success story?
Give your goals the greenlight and join us. Book your free consult now.