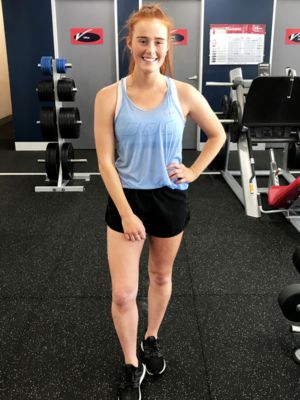 Like many teenage girls I had struggled with feeling comfortable and confident in my body for many years of high school, and I felt as though I could not be in control of my weight. I always thought that if I could be just a few kilos lighter, I would be a lot more confident in myself and generally happier. By the time I reached my year 12 exams, I had unsustainably lost about 9kgs within a two-month window due to feeling the anxiety of my final exams. Although I did feel a lot happier with my body image, I still felt completely out of control in terms of my weight and I knew that I could not sustain my limited food intake once I had been relieved of the stresses of year 12. At this stage, the only way I knew how to maintain my ideal body was by feeling hungry and lacking energy. At this point in time, my mum had been a part of Vision Camberwell for about six months and she was encouraging me to have a meeting with her personal trainer Nick and to talk about my goals.
I have always been heavily involved in sport, particularly hockey, and part of my goals when joining Vision were to build strength in my legs and back to help manage my ongoing back injuries. Also, I wanted to develop healthy eating habits that would help me sustain my exercise-load particularly during periods where I had five to six training sessions per week. I wanted to learn how to effectively nourish my body without over-eating which I tended to do in the past.
From the moment I started training with Nick I have felt completely in control of my weight and my body composition. I have learned not only how to balance the right levels of macro-nutrients every day, but also how to structure my food intake around exercise, and adapt it according to my training load. Nick has been so supportive and encouraging of my goals, and I feel as though I learn something new about food and exercise every time I leave the gym due to his wealth of knowledge and enthusiasm to help me learn. Thanks to Vision, I have never felt stronger, leaner and happier in my body than I do now and I love being able to feel completely in control of my body. I also managed to have one of my best hockey seasons to date, I felt stronger and faster on the pitch and I managed to make it through the season without becoming injured for the first time in about 8 seasons.
One of the most-fun and physically-rewarding experiences I have to date was participating in the 19km Tough Mudder last year with the Vision community - an event which I could never have completed on my own! I also loved taking part in the Spartan event last year where everyone was so supportive and encouraging, and being part of the Vision team at fun runs.
Phil, Leigh-Ann, Nick and all the trainers at Vision have built for me a foundation of skills and knowledge about how to eat and exercise effectively which I can take with me throughout my entire life and I will be forever grateful!!
Camberwell Success Stories
Our holistic approach to emotions, education, eating and exercise has transformed thousands of people across Australia & New Zealand. Get inspired by the journeys of your latest clients.
Are you our next success story?
Give your goals the greenlight and join us. Book your free consult now.