Before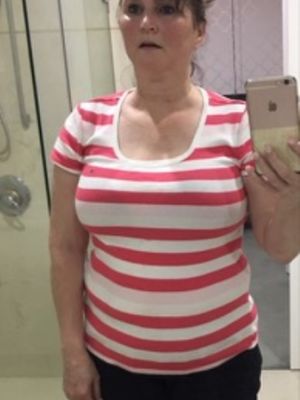 After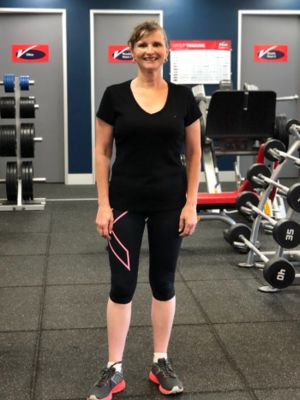 Turn back the clock, it was October 2018 and I was living with a number of challenges. I would get multiple headaches and migraines every week. I struggled sleeping through the night including trouble getting to sleep and when I did fall asleep it could be as late as 3am. I was a diet soft drink "addict" - I say this as I would get up in the middle of night to drink it as well as throughout the day. I was becoming rounder (maybe middle age spread but in denial about my age) and limited to what I could wear. I felt lethargic and disappointed in myself that I didn't have the energy I needed but continued to push myself causing exhaustion. I had fluid in the feet and wasn't performing dedicated exercise (couldn't think of anything worse!)
One morning as I waited for Medicare to open, I was greeted by Nick with his energetic smile and a bottle of water while he was on the exercise bike outside the Studio! I thought to myself… Was this a sign? I knew I had to do something, but it had become too hard and honestly, I wanted a quick fix (I am impatient). I chatted with Nick and agreed to make an appointment with Phil later that day. Phil "listened" to me, we chatted about everything that I was going through and he took the time to understand my feelings and concerns. And then he offered me a solution.
Yes, it involved exercise, but it is more than that - one of the many areas Vision worked on has been my overall well-being which has contributed to my success. Nick became my trainer, (lucky fellow - lol) and my journey began. We set goals and he guided me to ensure I could meet them; remember I am impatient! There are times when Nick has modified my sessions on days if he feels that I may not be up to the session planned to ensure that I obtain maximum benefit out of the session - sometimes it will be weights or cardio but I feel he is really in tune with my needs.
I have found all the Trainers motivating, and they provide such a positive environment for you to succeed. Even us Clients become positive ambassadors and encourage each other; it really is a community. The group classes and education sessions, and both one on one and group training helped to optimise the most out of what I was doing. I found the nutrition sessions and shopping tours beneficial as I started to look at how food could assist me in meeting my goals and improve my overall health and well-being.
I increased my food intake a lot and exercised (shock to the body). The phone app made it easy to track my exercise and food and allowed me to check certain foods if they worked in with the macros for the day. These tools along with Nick and the team at Vision Camberwell empowered me giving me the confidence to succeed.
Now fast forward. After my first 9 weeks I became 10.3kg LIGHTER and much more toned, my bio age had decreased, and my health/fitness score increased. I was now sleeping through the night and no longer drinking diet drinks or getting up in the night to drink them. My headaches and migraines reduced dramatically! I have more energy; my feet are no longer swollen at night time and I am able to perform a variety of exercise due to the weight loss exercise reduction! And my head feels clearer rather than foggy.
Fast forward another 9+ weeks and a lot more weight off. My fat mass has dramatically decreased, and I am now down 20kg! With the added advantage of toning along the way making me feel lighter when trying clothes…. oh, and again decrease in my bio age and increase in my health score. I doubt I will ever be a person who will "love" exercise or be an "exercise junkie" but I am constantly improving, however, in saying that, my trainer Nick and the team at Vision should be commended for the environment they are providing, including their encouragement as you don't realise how long you have been going, it becomes part of your lifestyle. I have been going just over 4 months and I'm down 20kg. I have achieved more than I thought and beyond my original goal of weight loss, I have reduced headaches and migraines, sleeping better and a much healthier person! One of my current goals is to continue to reduce my visceral fat level to be well in the optimal range (originally in the "over range", along with increasing muscle which will also assist with improving my metabolism - this being a huge benefit to me as a I have a thyroid dysfunction which I have had since I was a teenager (was over overactive for many years and then became underactive 20 years ago). Thank you, Nick and the team, at Vision Camberwell for being there to help me.
Camberwell Success Stories
Our holistic approach to emotions, education, eating and exercise has transformed thousands of people across Australia & New Zealand. Get inspired by the journeys of your latest clients.
Are you our next success story?
Give your goals the greenlight and join us. Book your free consult now.