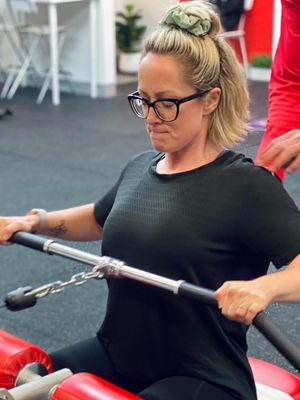 I joined Vision in September of 2018 as I had recently left a very toxic work environment that had left me feeling really unwell. I recall joining Vision the same day I had seen my doctor and got a mental health plan. Previously in stressful jobs, I'd found that the gym had always been a tool to manage my health, wellbeing and varying levels of stress.
However, when I had joined Vision, I had barely stepped foot in a gym for over 12 months, was binge eating to manage my emotions and had put nearly 10 kilos on over the 12 months prior.

I was so lucky to start my Vision journey with my trainer Kyle. He has been extremely patient and kind while I returned to feeling myself again with very small steps over this time. It's been these small steps that have led to the biggest changes. I started to eat breakfast again, rather than relying solely on coffee until 2pm and binge eating lunch and dinner. I was able to start eating smaller regular meals, then I increased my protein and slowly (very slowly) learned about macros and what works best for my body and overall health. I feel great and can manage my day to day stress with strategies that support and contribute to my health.

I've had periods where my focus has been solely on training and performance (hitting PBs on squats, deadlifts, leg press, bench press) and at other times my focus has been about dropping body fat in order to feel my best on my wedding day – and I absolutely felt my best!

What I love so much about Vision, my trainer and the Vision Community, is that, at times when our priorities change and life happens, they are there to support you no matter the setbacks. They will support you to start again, look at what you can control, make small meaningful changes based on where you are at. It's never about judgement, they just want you to feel and be your best in whatever form that takes.
Camberwell Success Stories
Our holistic approach to emotions, education, eating and exercise has transformed thousands of people across Australia & New Zealand. Get inspired by the journeys of your latest clients.
Are you our next success story?
Give your goals the greenlight and join us. Book your free consult now.