Before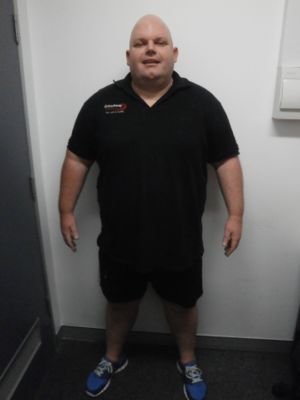 After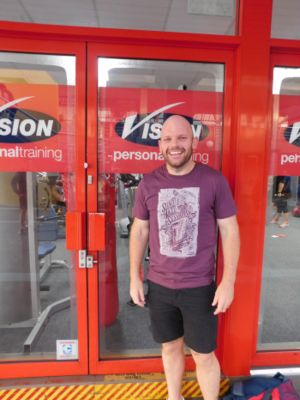 Working as a sales rep means lots of time on the road visiting clients Monday to Friday, I would always skip breakfast of a morning and usually have a coffee and then lunch would be a takeaway meal in between visiting clients and dinner would be as equally unhealthy as well as snacks in between. How I initially found Vision Castle Hill was through pure luck I was visiting a dentist around the corner from the studio and for a while I knew things needed to change as my weight was getting out of control. I called into the studio and spoke with the Franchise Owner and made the decision then to do something about my weight, I was approaching my 35th birthday and knew I wanted a change. I was teamed up with a great Personal Trainer and on my initial Performance Indicator my blood pressure was out of control and I needed a health clearance from my GP to start training. My GP initially thought I had type 2 diabetes and sent me for blood test and a whole host of testing that was honestly very daunting. I had normal blood sugar levels just very high blood pressure for a young man and he put me on medication and cleared me to start training.
The support from my Personal Trainer and all the Trainers has been fantastic, the training for me is the enjoyable part it was the change of diet initially and getting into a new routine was difficult in the beginning but six months into my new lifestyle it is now second nature and you have replaced bad habits with positive life changing ones. The weight loss challenge came at just the right time and losing the 21.55kg over the 9 weeks I was very happy with the results. The group boxing and extreme marines combined with my weekly PT sessions really made the weight loss challenge enjoyable and the 9 weeks was over very quickly. My blood pressure is now normal and I have lost 50Kg to date and I can't thank the staff at Vision Castle Hill enough for their help and support.
"I asked Angus to write this after he lost 50kgs but he has since lost another 20kg bringing the total to 70kgs lost in just nine months. Angus is training now for a half marathon and living a healthy lifestyle. Angus has truly changed his life. Congratulations Angus, we couldn't be prouder of your achievements." Richard Wong (Director)
Castle Hill Success Stories
Our holistic approach to emotions, education, eating and exercise has transformed thousands of people across Australia & New Zealand. Get inspired by the journeys of your latest clients.
Are you our next success story?
Give your goals the greenlight and join us. Book your free consult now.