Before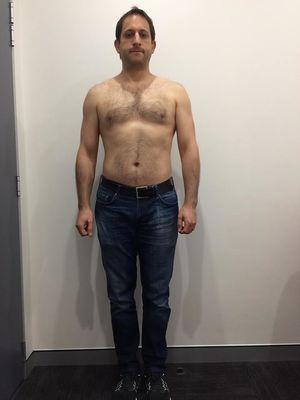 After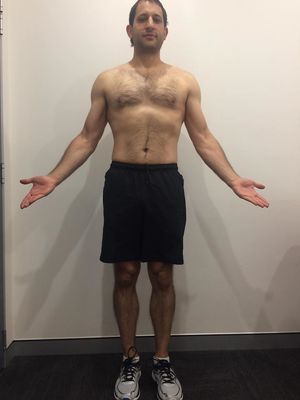 For many years, health and fitness were no longer a priority. Until one day I decided to try and lose some weight and improve myself. However, I got to a point where I had lost some weight but I was no longer improving on the results that I had achieved. One day my wife bumped into Robbie from Vision Crows Nest on the street and after having a chat with him she encouraged me to give the Vision trial a go. This is when my Vision journey began three years ago.
From the very first day I started the friendly trainers and community made me feel welcome and included. The trainers were knowledgeable, experienced and approachable which really made my experience more enjoyable and successful from the start. In the beginning I found it easy to define what I wanted to achieve with Robbie throughout my journey and by setting up my goals Robbie was able to help me stay focused on my health, fitness and nutrition goals each week until I started seeing remarkable changes.
Every personal training session I saw improvements. I was losing weight, putting on muscle and getting fitter and stronger. I was looking and feeling better and also found my backpain becoming more manageable with my muscle tightness and soreness disappearing. I found that the more I got to know Robbie the more we had in common and one of those passions was soccer. I found this made my time in the studio more enjoyable because we had a similar interest although we supported different teams.
I also found that by joining the Vision group sessions regularly I was able to achieve my results within the community and with the new friends that I had met. Since starting at Vision, I've been able to smash my weight loss and fitness goals. I've lost 7.5kgs, had a reduction in my body fat percentage by 8% and am 22.5cm slimmer in all my measurements across my chest, waist and hips.
I am now in my 40's, have two young children and my motivation comes from them. I want to remain strong and healthy so that I can be around for them for a very long time. My lifestyle has changed forever since joining Vision Crows Nest. The team's dedication helps you stay focused and motivated towards achieving your next set of goals, whatever they may be.
Crows Nest Success Stories
Our holistic approach to emotions, education, eating and exercise has transformed thousands of people across Australia & New Zealand. Get inspired by the journeys of your latest clients.
Are you our next success story?
Give your goals the greenlight and join us. Book your free consult now.