125ml Warm Milk
700g Cold Mashes Potatoes
2 Large Egg Whites
30g Parmesan Cheese, Grated
25g Italian Seasoned Breadcrumbs
Garlic Salt
Cooking Spray
Method
Peel, chop and boil potatoes until soft. Then drain and mash potatoes together with some warm milk and set aside.

Preheat the air fryer and spray with cooking spray to create non-stick base.

Fill a small bowl with egg whites, whisking well.

Fill another bowl with the breadcrumbs and Parmesan cheese and sprinkle garlic salt. Then mix to combine.

Using a 1/3 cup measuring cup, form potatoes into 8 patties.

Brush patties with egg whites (or you can use your hands to spread egg on), then dip into breadcrumb mixture. Place patties into the air fryer and spray the top with more cooking spray.

Cook for 10 minutes, or until becomes golden brown; flip and cook an additional 5 minutes, until golden on both sides.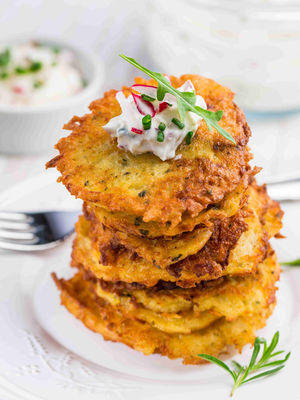 Discover more recipes on MyVision
MyVision provides members with hundreds of recipes which are easy to prepare and are suitable for the entire family.
Join us today and you'll have access to more great recipes like this.