1 Can Edgell Black Beans
2 Jars Old El Paso Medium Chunky Salsa
1 Packet Old El Paso Taco Seasoning
1 Tub Dairy Farmers Lite Sour Cream
250g Avocado, Mashed
1 Red Onion, Finely Diced
Method
In a casserole dish, spread a layer of black beans that have been drained and rinsed.
Place the tomato salsa layer on top of the beans.
Mix sour cream and taco seasoning mix together and spread across the tomato layer.
Place the avocado in a separate bowl and mash, then spread over the sour cream layer.
Sprinkle with shredded cheese and serve with Macro Corn chips or Mountain Bread chips.
* Macro values don't include the chips, dip only.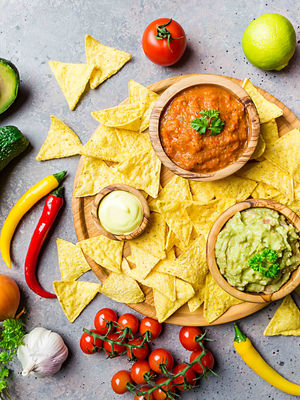 Discover more recipes on MyVision
MyVision provides members with hundreds of recipes which are easy to prepare and are suitable for the entire family.
Join us today and you'll have access to more great recipes like this.