1/2 Cup Rolled Oats
1/4 Cup Sunflower Seeds
1 Cup Fresh or Frozen Raspberries
1/2 Cup Desiccated Coconut
1 Tablespoon Maple Syrup
1/2 Teaspoon Vanilla Extract.
100g Dark Chocolate 70% Cacao (Or higher)
Method
Line a loaf with baking paper.

Place oats and sunflower seeds in a food processor and process for 3 seconds until they resemble coarse crumbs.

Add raspberries, coconut, maple syrup and vanilla and process again until well combined.

Press the mix firmly into the prepared pan and place in the freezer for 3-4 hours or until firm and set.

Line a baking tray with baking paper.

Remove the raspberry mix from the freezer, slice into 10 pieces and return to the freezer, while you melt the chocolate.

Melt the chocolate in a double boiler on the stovetop or in the microwave until runny.

Using two forks, lower the raspberry pieces into the melted chocolate and coat well.

Quickly tap off excess chocolate and place on the prepared tray, then return to the freezer to firm up the chocolate.

One raspberry ripe is one serve. Store leftovers in the freezer for up to 3 months.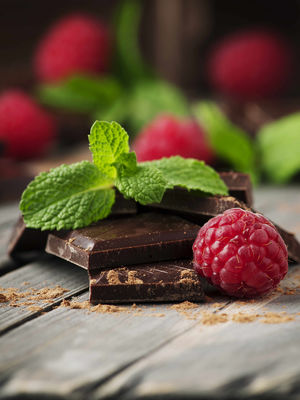 Discover more recipes on MyVision
MyVision provides members with hundreds of recipes which are easy to prepare and are suitable for the entire family.
Join us today and you'll have access to more great recipes like this.