140g Almond Meal
30g Vanilla Flavoured True Protein Powder
10g Coconut Oil, Melted
80g Mayvers Smooth Peanut Butter
40g Rice Malt Syrup
1 Tablespoon Stevia
20g Dark Chocolate (for garnishing)
Method
Preheat oven to 175 degrees.
Place all ingredients in a bowl and mix well until a dough formed. If mixture is too crumbly, add 2 tablespoons of water.
Formed heaped dessert spoons of the dough into balls to make 2 cookies and place on a baking tray and gently flatten with the back of a fork.
Bake in the oven for 15 minutes until slightly golden.
Allow cookies to cool a little and set on the baking tray before removing from tray.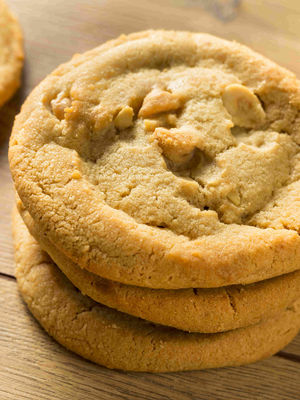 Discover more recipes on MyVision
MyVision provides members with hundreds of recipes which are easy to prepare and are suitable for the entire family.
Join us today and you'll have access to more great recipes like this.