4 Pieces of Barramundi
2 Garlic Cloves Minced
2cm Slice Ginger Minced or Cut Finely
1 Tablespoon Curry Powder
1/4 Cup Fresh Coriander
4 Tomatoes Cut Into Small Cubes
1/2 Lemon - Juice Squeezed
1 Onion Cut Finely
1/2 Cup Water
Salt & Pepper to Taste
Chilli - Optional
Greek Yoghurt - Optional
Method
In a pot place garlic, ginger, chilli and stir over a medium to high heat for 2 mins then add in curry powder and onion and stir until onions are translucent.

Add in tomatoes, water, coriander, lemon juice, salt + pepper. Bring heat down to low, add in fish and cook for 5 minutes until fish is cooked through. Serve on a bed of rocket. Feel free to dollop a spoon of Greek yoghurt on top.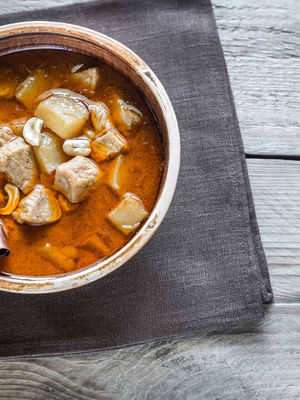 Discover more recipes on MyVision
MyVision provides members with hundreds of recipes which are easy to prepare and are suitable for the entire family.
Join us today and you'll have access to more great recipes like this.