20g Coconut Oil
250ml Soy Milk
125g Wholemeal Plain Flour
1 Lemon
50g Soy Flour
Method
Sieve flour into a large mixing bowl and then slowly add soy milk whilst whisking with a fork to prevent lumps forming until a smooth batter is created.
Melt coconut oil and then add to bowl and continue to stir through. Once batter is mixed, leave to chill in fridge for approx. 30 minutes
Heat a large flat frying pan and spray with oil and once hot pour 2 tablespoons of batter into centre of pan.
Swirl mixture around to form a thin pancake mixture and cook for 1 minute until the underside is brown and then flip pancake to cook other side.
Transfer cooked pancake to a plate and keep under a warm grill whilst using remaining batter to make more pancakes.
As each pancake is cooked transfer to plate and interleave each pancake with a sheet of baking paper to avoid sticking.
Serve with drizzled lemon juice and your choice of berries.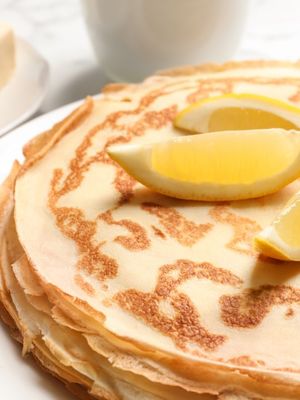 Discover more recipes on MyVision
MyVision provides members with hundreds of recipes which are easy to prepare and are suitable for the entire family.
Join us today and you'll have access to more great recipes like this.