Loaf
480g Bananas
240g All-Purpose Flour
2 Eggs
1 Tsp Cinnamon
30g True Protein French Vanilla
160g Dates, Whole
250g Extra Virgin Olive Oil
1/2 Tsp Baking Powder
Icing
450g Vanilla Yoghurt
1 Tbsp Lemon Juice
1 Tsp Maple Syrup
Method
Pre-heat oven to 160 degrees Celsius.

In a large bowl, add all the ingredients and stir well until all ingredients have been well combined.

Line a medium cake tin with baking paper, pour the mixture into the tin and then place the tin in the oven to cook.

Cook for approximately 40 to 45 minutes and then remove from the oven once cooked through.

Allow the cake to cook before icing.

In a small bowl, add the vanilla yoghurt, lemon juice and maple syrup. Stir well and then spread over the cake.

Cut into 4 large pieces and then down the middle again into 8 pieces.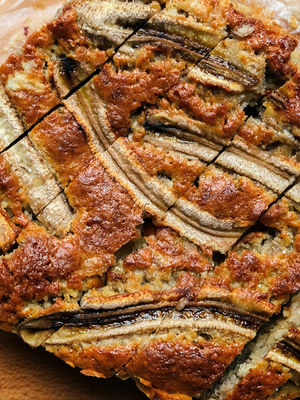 Discover more recipes on MyVision
MyVision provides members with hundreds of recipes which are easy to prepare and are suitable for the entire family.
Join us today and you'll have access to more great recipes like this.