125g Microwave Long Grain White Rice
1/4 Cup Woolworths Frozen Baby Peas, Thawed
2 Spring Onions, Trimmed, Thinly Sliced
1/2 Small Red Capsicum, Deseeded, Finely Chopped
1 Tbsp Plain Flour
1 Woolworths Free Range Egg, Lightly Beaten
1 Tsp Salt-Reduced Soy Sauce
5ml Olive Oil Cooking Spray
Method
Break up rice and place in a medium bowl. Add peas, onion and capsicum, then stir to combine. Add flour and stir to combine. Add egg and soy, then stir to combine.

Spray a large frying pan with oil and heat over medium heat. Spoon 1/4 cupful of mixture into pan. Flatten slightly.

Cook for 2 minutes on each side or until golden and cooked through. Transfer to a plate to cool.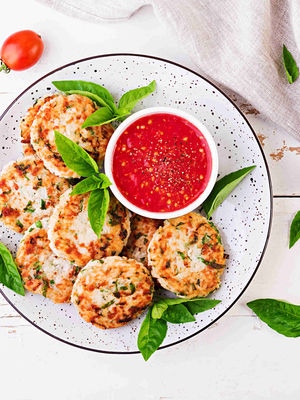 Discover more recipes on MyVision
MyVision provides members with hundreds of recipes which are easy to prepare and are suitable for the entire family.
Join us today and you'll have access to more great recipes like this.