30ml Balsamic Vinegar
100g Mascarpone
500ml Chicken Stock
200g Polenta
0.5g Garlic
1.67g Dried Thyme
325ml Skim Milk
200g Mushrooms
1 tsp Olive Oil
100g Parmesan Shredded Cheese
10g Rocket
Method
Place chicken stock and milk in a large saucepan and bring to the boil.Gradually add polenta and stir until well combined. Reduce heat to medium- low, cook stirring frequently for 30 minutes or until polenta is soft.
Stir in parmesan and half the blue cheese or gorgonzola. Season with salt and pepper and set aside.
Meanwhile heat half the oil in a large fry pan over high heat. Add half the mushroom and cook for 4 to 5 minutes or until golden. Transfer and repeat with remaining oil and mushroom.
Return cooked mushroom along with garlic and thyme to fry pan and combine, allowing garlic to cook. Add balsamic glaze and stir until heated.
Divide polenta among serving plates. Top with mushroom mixture and scatter with remaining blue cheese or gorgonzola. Top with rocket.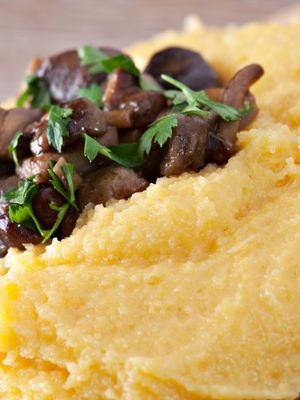 Discover more recipes on MyVision
MyVision provides members with hundreds of recipes which are easy to prepare and are suitable for the entire family.
Join us today and you'll have access to more great recipes like this.