100g Capsicum
50g Couscous (Remano)
100g Beef Steak (Lean Only Eaten)
70g Mushrooms
1 Slice Pineapple
Method
Soak beef skewers in water for 1 hour to prevent burning. Slice beef into chunks.
Chop capsicum, pineapple and mushrooms into large pieces.
Individually pierce one piece of each ingredient onto the skewer until full.
Cook on a heated grill or BBQ until beef is cooked through.
Follow instructions on couscous packet and serve skewers on a bed of couscous.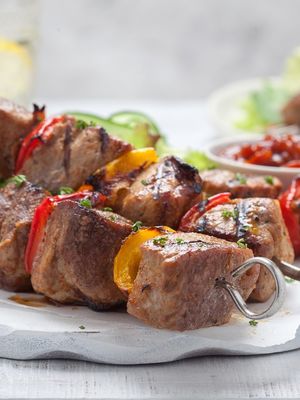 Discover more recipes on MyVision
MyVision provides members with hundreds of recipes which are easy to prepare and are suitable for the entire family.
Join us today and you'll have access to more great recipes like this.