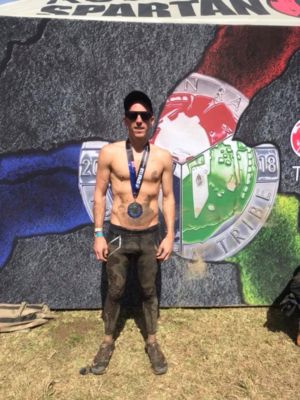 What made you join Vision initially?

My friend was going and he was obtaining great results and was always talking about how much fun going to Vision was so after putting it off for a while I finally joined and have never looked back.

What do you enjoy about training in our studio?

It's great training at Vision Surry Hills because there is a real sense belonging and all the trainers are really friendly and there is a fantastic studio ambassador Pebble, he always provides a happy smile upon arrival.

How was the nutrition support useful in your health and fitness journey?

The real-life shopping tour was one of the most educational tools for me and the app is very helpful too, the nutrition support and the app has been a powerful tool to aid me with making good food choices.

What challenges have you faced on your journey? How have you overcome them?

As I enjoy running outside I find winter is the most challenging time for me as it's so cold and I struggle to get outside. I try to overcome this seasonal challenge by finding activities to do indoors.
What results have you achieved so far?

I've gained muscle and lost fat, although I'd say the results I have obtained from participating in Spartan races is something I'm proud of and something that Vision got me interested in.

What are your future health and fitness goals?

Coming into summer, it's pretty simple to look good for the beach, lol.

What other areas of your life have been impacted by the changes you have made to your overall health?

I think over all I'm happier and healthier, mind and body and my work and personal life has also benefited greatly.

What would your advice be to anyone looking to begin their own health and fitness journey?

It doesn't matter where you feel you are in regards to your health and fitness we all had to start somewhere, why not start your journey today, join Vision you won't look back.
Surry Hills Success Stories
Our holistic approach to emotions, education, eating and exercise has transformed thousands of people across Australia & New Zealand. Get inspired by the journeys of your latest clients.
Are you our next success story?
Give your goals the greenlight and join us. Book your free consult now.