Before
After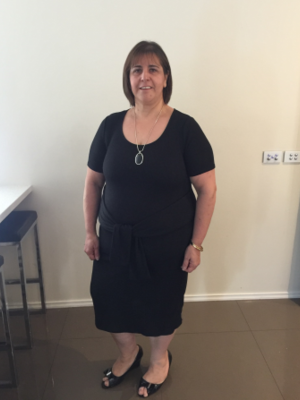 Tell me about your life before Vision?
Life before Vision entailed 6 slices of toast and a litre of coke for breakfast, do i need to say anymore? I would eat take out every day and I had never exercised previously. At one point I joined one of the larger gyms and went for 1 week but I had no idea what I was doing and I never felt welcome as people used to stare at me. After that week I never went back.
A usual day for me would be: drop the kids off, sit on the couch, pick the kids up, go out for dinner, get take out. I struggled to stand on my feet for long periods of time as my feet would start burning. I never wore shoes as I couldn't bend down to put them on or lace them up. I would wear thongs of slippers. If I did wear shoes my kids would have to put my socks on and tie my laces up for me.
On Mother's day 2016, my husband Mark announced that we were going on around the world trip in March 2018. I remember that moment as I started crying, all I could think about was how I wouldn't fit into a seat on the plane and would need to purchase two seats. I tried a shake diet in which all I would consume was Shakes and green veg, after 10 days I found myself sitting at KFC. It was at this point I called my sister Bianca asking for help, she was training at Vision at that time and that's when my journey began.
What Results have you achieved?
So far, I have lost over 50kg, and dropped from a size 26 to a size 18 clothing, 5 dress sizes! Basic movements are now much easier, for example: I can do my shoelaces up on my own without assistance and I can get up off the floor by myself unassisted. I can even do some push ups! I have completed 3 fun runs of 5kms each and I'm now signed up for the 10km Melbourne Marathon in 2 weeks. I can run around the oval without stopping whereas I used to struggle to walk down the street without stopping.
How has life changed for you?
I remember asking James to install a lift in the studio after first attempting to climb the stairs. I walk up them almost every day now. I am full of energy to get around each day and my motivation in life is just great. I used to sit around and do nothing all day, even with so little activity I would still need to have to nap during the day.
Increasing my ability to move has been the biggest change in improving my quality of life, keeping up with my family is now much easier and we can actually enjoy doing activities together. This has changed my outlook on life, I now want to do things that I previously could never do. For example, I never went shopping at Southland as I was unable to walk around. Now I go shopping more than my daughter and I actually enjoy it. I'm not afraid to walk out my front door and go for a walk, I used to step outside and people would stare, I was far too embarrassed.
My confidence has improved out of sight. I'm proud of myself and what I have achieved, I have never been proud of myself before. I'm now looking forward to my holiday and I can do all of the activities with the family. I love spending time with my hubby and kids as I feel like a normal person again. Going out to events and picking what to wear is easier, I'm even getting complimented on how I look.
I have learnt that everything is good in moderation, my nutrition knowledge is profound and I know what my best options are at all times of the day.
What is your favourite thing about training at Vision?
The fact that I'm not being judged, I am made to feel very welcome. All the Trainer's support is amazing and I've made so many new friends that are positive and encouraging. We all have a journey that we are on and we can share in that together.
My Trainer Dan has helped me so much and has literally saved my life. When I couldn't do my shoelaces up, he would bend down without question and do them up for me, what other place has that kind of environment? It is just such an amazing environment to work towards such a big goal.
What advice would you give someone in a similar situation to where you were, and is thinking about making a change?
I would tell them it is hard, I won't lie, it has taken a lot of effort. There's no such thing as you can't, because you can achieve things you never thought possible. Don't give up and push through all setbacks, nothing is too hard. I've learnt to put myself first and look after number 1 otherwise you're no good to anyone. It's been difficult but it's been the most rewarding journey I've ever been on. Make sure you 'Eat more to Lose more' that is an area so many people go wrong. Have trust in the process.
Brighton Success Stories
Our holistic approach to emotions, education, eating and exercise has transformed thousands of people across Australia & New Zealand. Get inspired by the journeys of your latest clients.
Are you our next success story?
Give your goals the greenlight and join us. Book your free consult now.