Before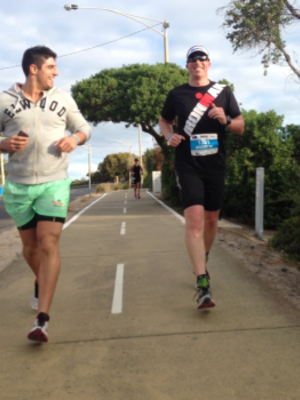 After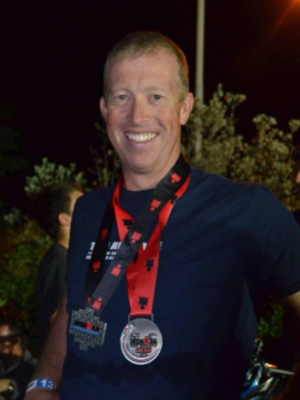 In May 2011 Andrew begun his journey with Vision Personal Training Brighton. Previously Andrew had prioritised his family and career but at a cost to his own health and fitness. Over the past 5 years he has gone from running fun runs to multiple Ironman events, achieving some monumental health and fitness goals whilst juggling the responsibility of 3 young girls and a large corporate career.
We are so proud of Andrew's journey and look forward to seeing him complete a long term goal of competing in the Hawaii Ironman in the not too distant future!
Here's what Andrew had to say about his journey.
"As a teenager I played state level basketball, swimming, athletics and cross country. However, as happens, by the time I was in my mid to late 20's I'd given up playing all sports other than the occasional game of golf and was spending my time working, travelling and living the "good life"! I eventually realised that I was over weight and that my lifestyle wasn't sustainable nor in alignment with who I fundamentally was or wanted to be!
I joined Vision Personal Training Brighton in mid 2011 and started doing short jogs, swimming occasionally and entering short triathlons. Then as a real stretch I did a few half marathons. After these events I would sit on the couch recovering for hours! I was really pushing myself - or so I thought!
In May 2012, with some trepidation, I completed my first marathon. I trained hard and despite injury finished in a respectful 3:46. It was at this time that I really pushed past all of my mental barriers and entered my first Ironman - Melbourne 2013. A 3.8km swim, 180km bike and a 42.2km marathon. Finishing in 12:02 was an amazing personal achievement - absolute confirmation to me that 80% of our barriers to achieving fitness / event goals are personally imposed and mental!
With Ironman most of the challenge is actually having the mental fortitude to sign up - the rest becomes a training plan, food plan and proactive medical (massage, etc.) plan where reasonable conformance will get you through!
You also need to shelve the excuses - I'm the world's best single dad with three lovely girls, have an executive role and a myriad of personal and business interests that consume my time - if I can find time to add new things so can you!! Please ask me how!
I've now done 8 Ironman events and as of 23/03/2015 was 4th in the 2015 40-44 Ironman Age Group World Rankings!
I've got Ironman WA 2016 locked in and will do at least four Ironman each and every year from now on! I really am trying to set high personal standards for my girls to see and experience - if they can take away the work ethic and share the joy of achievement then that is great!
Now when I run through the half way point of the Ironman marathon I have a smile on my face knowing that my previous barriers were self imposed and mental! Oh, and that the Ironman finish line is only a two hour jog down the road!"
Brighton Success Stories
Our holistic approach to emotions, education, eating and exercise has transformed thousands of people across Australia & New Zealand. Get inspired by the journeys of your latest clients.
Are you our next success story?
Give your goals the greenlight and join us. Book your free consult now.