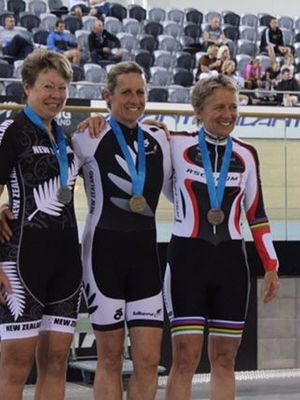 A huge THANKYOU to Vision Personal Training Takapuna Beach.
After years of struggling to keep my weight down I finally feel I have control of my body, it's only taken 54 years!! I have always been a keen multi-sport participant, running, swimming, cycling, gym and anything else I can do to keep my weight down but the extreme exercise has never seemed to help keep my body trim. Even after months of training for Ironman in 1995 I was not a skinny triathlete.
Two children and post menopause I felt depressed and frustrated that the exercises I had always loved were getting harder and harder to do with the increased weight gain of over 10kg.
When I fell, last year while snow skiing and struggled to get back on my feet I felt it was time to take action. My goal this year was to compete in all the cycling events at the World Masters Games in Auckland. Road and track cycling have been a passion for several years after no longer being able to run due to sore knees, feet and achilles.
Now 13kg down, because of Vision PT I am the fittest I have ever been on the bike; climbing the hills faster than most in all the road races I have done so far, this year. One Gold (and a NZ record), 3 Silvers and 2 bronze medals at Masters Games followed by 2 silver medals at National Club Road Cycling Champs it has been a great end to the cycling year. Roll on worlds next year!!
The main difference at Vision is the detail to food intake and the balance of food requirements to daily demands of exercise and life style. Thank you again to the team at Vision PT Takapuna.
Takapuna Success Stories
Our holistic approach to emotions, education, eating and exercise has transformed thousands of people across Australia & New Zealand. Get inspired by the journeys of your latest clients.
Are you our next success story?
Give your goals the greenlight and join us. Book your free consult now.