Before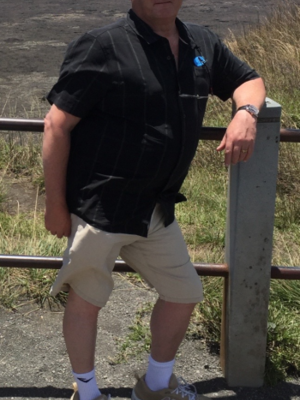 After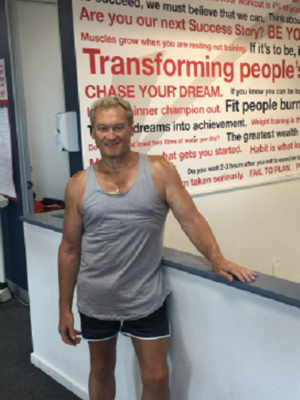 How was your life before Vision?
Prior to joining Vision, I was living a sedentary life and gradually getting bigger and bigger. I had suffered from type 2 diabetes for about 20 years. I worked as a kitchenhand when I moved to Melbourne, which heavily affected my eating habits in a negative way. Moving from that to working in administration wasn't much better, I would be sitting down all day and snacking on junk. I would go to the doctor for a check-in and each time my weight had increased, I would say to myself, 'that's okay I'm only up a kilo or two'. I eventually got to a point where the doctor had to say 'Kevin you need to do something about your weight' and it was no longer just a want, but a need. One day sitting in a cafe I looked up at the Vision Personal Training poster that I'd looked at every day for years, and decided to act! From that point life as I knew it was no longer!
What results have you achieved?
Over the past 6 months I have lost 30kg and I'm feeling amazing! My energy levels are through the roof as well as my fitness, I can now exercise 3 times a day quite easily. I am totally free of my type 2 diabetes and my doctor is now saying my health is the best it's ever been. I'm breaking records for him down at the clinic!
How has life changed for you?
Well how do I sum this up? Firstly, I'm much more confident and proud of how I'm looking. I would have never previously worn a singlet and now I wear them daily. I used to hate buying clothes and shopping, as nothing I tried would look good on me. I now love clothes and have gone from wearing a XXXL to a medium or even a small. I look at food now completely differently, I used to think banana bread and butter was a healthy snack, now I look at the stuff I used to eat and think how could I have put that in my body. I've given up alcohol and swapped champagne for mineral water which for me was a massive change. I now exercise 2-3 times per day and enjoy it! I used to sit at home and make an excuse for why I couldn't do it. I feel like I now have a purpose to get out of bed.
What has been your favourite thing about training at Vision?
Besides the obviously amazing people and atmosphere in the studio I would have to say the overall education and knowledge I have gained in the process of my transformation. Not just from an exercise point of view but from nutrition to emotions and mindset as well. I have learnt so much about myself in the process. My trainer Vinay has been a fantastic mentor and coach in all aspects of my life. I just think it's great that Vision Personal Training have such a well rounded approach and focus on you the client rather than just focusing on exercise.
What advice would you give to someone who is in a similar situation to where you were, and is thinking about making a change?
Don't wait until it's to late! Eliminate the poor influences in your life and surround yourself with the right people to support your journey. It's funny how your true friends come to the surface when you make a big life change. Believe that it is possible to do, I used to think I could never do it and now I'm inspiring people around me to do exactly the same. Have a professional guide you in your journey, I would definitely recommend the team at Vision! Lastly continue setting goals, make it a lifestyle not a one off.
Brighton Success Stories
Our holistic approach to emotions, education, eating and exercise has transformed thousands of people across Australia & New Zealand. Get inspired by the journeys of your latest clients.
Are you our next success story?
Give your goals the greenlight and join us. Book your free consult now.