Before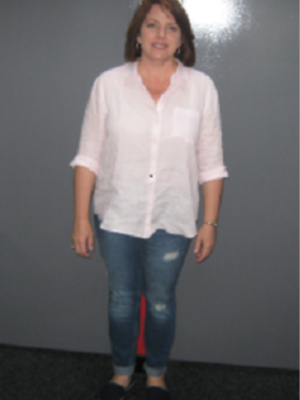 After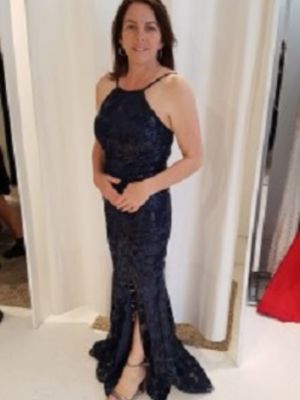 For the last four years I have faced some extraordinary 'left of field' challenges that have required immense amounts of mental, physical and emotional energy. What I have learnt from this journey is just how strong I am, but also how important it is to look after every aspect of yourself to ensure you make it through long term. By August of last year, I was starting to wear out and felt like a fat and frumpy middle age woman. I was not focused on my health and my diet and exercise was inconsistent.
Around this time, I was challenged to raise my standards by my life coach. I knew I valued my health and had to start living out that value, to utilise and maximise the potential of the precious gift that my body was. I realised that those around me that were where I wanted to be were not any different, they had just dealt with their 'hand breaks' and were consistent with their diet and exercise.
On September 1st 2016, I signed up for two Personal Training sessions a week at Vision Double Bay. I turned up in some old daggy gym gear with a new found fierce determination to give 100% and follow exactly what I was told to do without complaint.
I am so excited about my results. I have moved from a size 14/16 to a size 10 and lost a total of 18kg and 42.5cm, and have had to buy a whole new wardrobe which has been fun. I have lost weight before, but my level of fitness and the body shape changes that I have been able to achieve with Vision are way beyond what I expected or previously achieved.
Why is this? Personally, I think the following reasons:
Mindset changed - first vital step for me. Seeing my health as a must have not a might do later when I have the time/money/energy. Getting out of bed and doing the sessions/walks and classes even if I didn't feel like it.
A Personal Trainer - someone to be accountable to and to push me further and faster than I would have for myself. This was one of the major differences that helped me I think.
Doing weight training - has made a massive difference to strength, stamina, weight loss and body shape. Part of my life forever now.
Food diary and training diary - consistently completing these and staying accountable to both, increased knowledge, understanding and focus. Even if I had a bad day I would put it in honestly…. helps you see patterns.
Doing classes and walking on top of PT training sessions - I have tried to exercise most days.
Cutting out all sugar and processed carbs - now protein and produce rule!
Lots of reading - Learning about my body functions and processes from fabulous authors and researchers such as Dr Michael Dow, Dr Michael Mosley, Giulia Enders and Dan Buettner further cemented my mindset and health values.
I am forever thankful to my life coach Jen who pushed me past my excuses and into Vision Double Bay. I am also indebted to the whole Vision Team who have walked the journey with me, inspiring, believing in me and pushing me further. I am lifting weights that I never dreamed possible and setting long term goals around body sculpting and doing major endurance treks. I do not feel in any way fat or frumpy. My biggest regret is that I left it so long!
Double Bay Success Stories
Our holistic approach to emotions, education, eating and exercise has transformed thousands of people across Australia & New Zealand. Get inspired by the journeys of your latest clients.
Are you our next success story?
Give your goals the greenlight and join us. Book your free consult now.