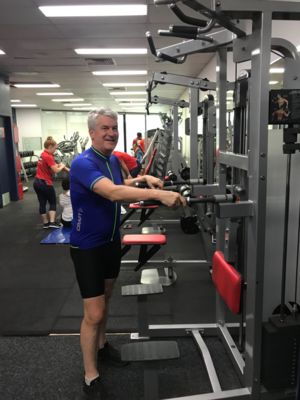 I was conscious that I wanted to be more active and that I had progressively over many years added weight and become less fit. I wanted to see what was possible to achieve in order to enjoy sports again including long bike rides and to maintain my passion to ski. As I approached 60 I was determined that was not a reason to give up on enjoying physical activity and vitality.
The journey has massively improved my all round fitness. It has included weight loss though that is on-going, but significantly improved my muscle tone and aerobic fitness. My sense of greater physical wellbeing is daily and my stamina both in exercising and working is greater.
I am fitter than I was more than a decade ago. That's included setting myself a goal to ride 1000kms over a month as a charity bike ride whilst keeping up my busy work schedule. That would not have been possible without the elevation of my fitness progressively with my Trainer at Vision. When I first got on my bike before I started training with Vision I got off half way up the first hill and pushed my bike up the hill. The bike challenge found me riding around 250kms a week and my underlying fitness gave me the mental stamina to persist, reach my goal and enjoy the ride itself, which was very satisfying.
There is no one thing that has been the hardest. Being persistent in the initial training was important in making training a normal part of my life and all the trainers know who you are and give encouragement. Sometimes I have plateaued in what I am achieving in my training as other activity in my life has distracted me, but keep training and with training routines and goals being regularly assessed and reset with my Trainer things get back on track quickly. I'll admit food can be a challenge but there are good tools made available and when I track myself using the VVY food planner it works well.
Getting started is a personal choice but once started the Trainers clearly show their sensitivity to supporting that decision. The goals agreed with your Trainer from day one is achievable, and with quiet persistence you will soon surprise yourself with signs of transformation in physical tone and aerobic stamina regardless of your age. The training itself then becomes enjoyable.
Double Bay Success Stories
Our holistic approach to emotions, education, eating and exercise has transformed thousands of people across Australia & New Zealand. Get inspired by the journeys of your latest clients.
Are you our next success story?
Give your goals the greenlight and join us. Book your free consult now.