Before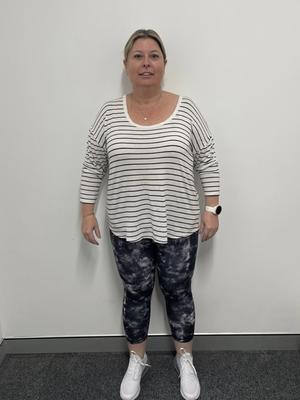 After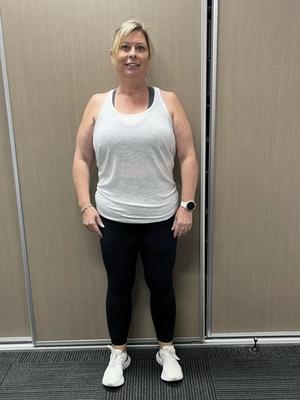 After sitting in a doctor's surgery and him telling me that I was on the verge of becoming a Type 1 diabetic due to being grossly overweight for my height, being pre-menopausal, and giving me no less than 3 scripts of medicine I was required to take I knew I had to make some changes.
I had recently moved to the shire after spending 25 years in the same house raising my two teenage children. I moved to the shire for a lifestyle change and saw an ad on Facebook looking for people over the age of 40 to join the studio.
Whilst it was one of the hardest phone calls I had made, (I think I called twice and hung up) I had a conversation with Nathan who was very encouraging and invited me into the studio. My first consult was full of tears, shame, and embarrassment that I had let myself reach a weight of 86.6kg.
I was introduced to Chris, who was to become my trainer and hold my hand. Chris has changed my life. As a trainer we have developed a fantastic relationship full of encouragement and support. There have been times where due to medication I haven't been well enough to train but he has always helped me maintain my focus and motivation.
I could clearly see now that my move to the shire was paying off and as a working parent, time to me was just important to time with others. I have set goals for myself and the satisfaction of reaching that initial goal of my son not seeing me for 4 months whilst at the police academy and me wanting to be 75kgs at his graduation filled me with pride.
I am no longer scared to challenge myself and almost 20kgs weight loss with a stronger mental mindset, my next challenge is the Sutherland 2 Surf and training to become even stronger and healthier.
Gone are the 3 medications that I was prescribed almost a year ago and through the support of Chris and the team at Vision, I am merciless at becoming the best version of me I can be. Life is a marathon not a sprint!
Sylvania Success Stories
Our holistic approach to emotions, education, eating and exercise has transformed thousands of people across Australia & New Zealand. Get inspired by the journeys of your latest clients.
Are you our next success story?
Give your goals the greenlight and join us. Book your free consult now.