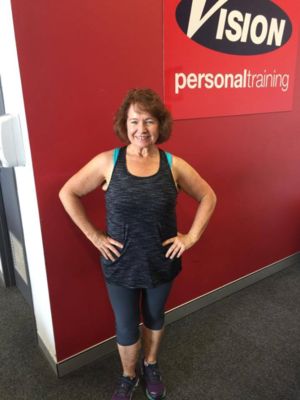 Hello. My name is Kathy. I was an overweight child and have been overweight for most of my adult life. If you ask my friends they will tell you that I have always been on a diet. Apart from some crazy diets in my youth such as The Grapefruit Diet and The Israeli Army Diet, I prefer eating plans that have scientific research behind them. Even so, the weight would be hard to shift and would eventually find its way back again with some extra! So, I decided to try Vision. I have just lost 30 kilograms. I believe the difference this time could be attributed to three things: lifting weights, more protein and the right amount of carbs. I have learnt this from Vision. My fitness has dramatically improved as a result of my cardio sessions and I have noticed that my body is looking more muscular rather than just thinner as a result of my weight training. My weight loss has always been about becoming healthier. I suffered a major heart episode seven years ago so I was always concerned before with the extra weight I was carrying. Now I feel really comfortable and nothing seems to be an effort. Although my weight loss has been at a slow rate, it's really satisfying seeing my weight and size coming down over the months. It's a bonus that I am getting lovely compliments about how I look, but even more astounding is that I have friends and colleagues telling me that I'm an inspiration. Wow! What I have achieved with Vision is amazing. I have learnt to set goals and work towards them. This includes participating in two Weight Loss Challenges, and I even won the Studio's Female Section earlier in the year. I have participated in The Sutherland to Surf and also The Blackmores Fun Run. I have used the Vision tools to keep me on track and I enjoy mixing up my exercise routine by joining in the group classes. I am thankful for the trainers, owners and community of Sylvania Vision. I have learnt and achieved so much in a friendly, inclusive and caring environment. Even though I still have more weight to lose I know that my goal weight is now achievable. I also know that once I'm there I will continue to set more goals for my health and fitness under the watchful eye of my wonderful trainer.
Sylvania Success Stories
Our holistic approach to emotions, education, eating and exercise has transformed thousands of people across Australia & New Zealand. Get inspired by the journeys of your latest clients.
Are you our next success story?
Give your goals the greenlight and join us. Book your free consult now.