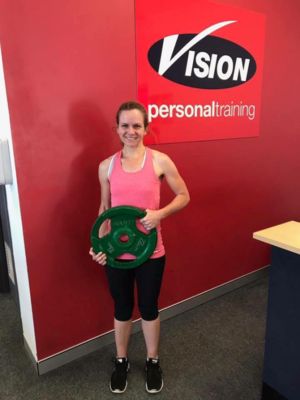 2017 was a transformative year for me in so many ways - ways that I could never have imagined as I watched the fireworks usher in the first seconds of the New Year. Beginning a new job as a principal opened my eyes to a world of challenges and the responsibility you bear when privileged with a task such as leading a school community. At the end of the first term, sitting back in my ergonomic 'Principal's Chair', happily ensconced behind my 'Principal's Desk' in my all-important 'Principal's Office' I had a sickening thought. Slowly but surely, my mountain of paperwork had been replaced by a mountain of Lindt balls and Easter Bunnies thoughtful students had delivered to me - and I had been ploughing through all that well-intentioned chocolate just as diligently as the paperwork which had come before it.
Slowly but surely, I had stopped getting up to walk to my filing cabinets, but rather I had taken to rolling myself there on my chair. And slowly but surely, rather than leave my office to eat with the teachers or check in with the students, I had taken to running my school from behind my desk. This was not the vision I had for myself when I imagined what life as a principal would be like. This was not the vision I had for how I would lead my students and teachers in setting ambitious goals and working hard to achieve them. This was not the vision I had for 2017 at all. I knew at that moment I had two choices: get fit or get fat.
Fast forward nine months and I am proud to be among the ranks of the Vision Sylvania faithful. The authentic interest in who you are, the unwavering belief that you will achieve your goals and the genuine joy in even the smallest success is what sets the amazing team of Trainers at Vision Sylvania apart from any other. Thanks to a committed, supportive and respectful partnership with my Trainer, Matt, underpinned by innate trust and belief in each other, I have completed two 35km walks, smashed the Bridge run, and am now training for Coast Trek (60km) in March, a half marathon in Sydney and will run the New York City marathon in November. I am 10kgs lighter and committed to a fit and healthy way of life.
A year ago, I would have said that moving up the career ladder was my greatest achievement to date; now the fact that I am able to drop and punch out twenty push ups on my toes at any given moment is giving the career goal a serious run for its money. Come November, I am certain I will add 'completing the NYC marathon' to that list.
Sylvania Success Stories
Our holistic approach to emotions, education, eating and exercise has transformed thousands of people across Australia & New Zealand. Get inspired by the journeys of your latest clients.
Are you our next success story?
Give your goals the greenlight and join us. Book your free consult now.