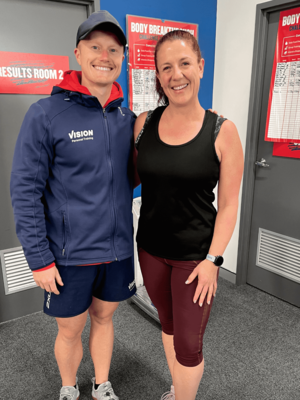 I'm the typical introvert; far more at ease in a library than a gym. In the past, I loved spending my free time reading crime novels and bingeing on Netflix, usually with a large cheese plate for company.
I've never, ever been sporty and my weight has roller-coastered up and down for as long as I can remember. I've tried every diet and found that the real challenge was actually sticking to them. For many years, all of my energy was consumed with work and parenting and I was always too tired to care about meal planning or allocating time for regular exercise.
WHY YOU STARTED TRAINING
I started at Vision simply because the gym was close to home and I thought it would be easy to turn up regularly. In the beginning, I did a bit of cardio and weights and entered a couple of running events, seeking to make big changes in a hurry. Training remained very low on my list of priorities however and I didn't allow it to be as straightforward as it should have been. As my kids grew older, I found time for longer, more regular runs, which led to a huge improvement in my wellbeing. It became addictive and I changed my focus from losing weight to being a runner.
WHAT HAS HELPED YOU ALONG THE WAY
I've always had wonderful trainers who were willing to flex and shape my program around my goals and I was lucky to start working with Jack shortly after the first COVID lockdown in 2020. I knew that Jack had trained a few runners to achieve some inspiring goals, like completing the New York Marathon and I really felt that he was in my corner, backing me all the way. He adjusted my program to build runner's strength and my fitness, pace and shape gradually changed for the better. I've just completed my fifth half-marathon with a personal best time – I can't quite believe that my fitness is improving with age!
WHAT YOU'VE ACHIEVED
Goal-setting around running events has become a very important part of my life. I love the regular events in Sydney, including the Sydney Morning Herald Running Festival, Sutherland to Surf, City to Surf and Blackmore's Running Festival. I've also added the Hobart and Canberra Running Festivals to the mix, which make great excuses for a holiday.
AND WHAT YOU LOOK TO DO IN THE FUTURE
I've heard that the flattest, most picturesque run is in Queenstown, NZ, so that's definitely on my bucket-list in the near future. My food-focus has changed from weight-loss to nutrition for long distance events and I have every hope and intention of being one of those fabulous older girls, running events well into my eighties!
Sylvania Success Stories
Our holistic approach to emotions, education, eating and exercise has transformed thousands of people across Australia & New Zealand. Get inspired by the journeys of your latest clients.
Are you our next success story?
Give your goals the greenlight and join us. Book your free consult now.