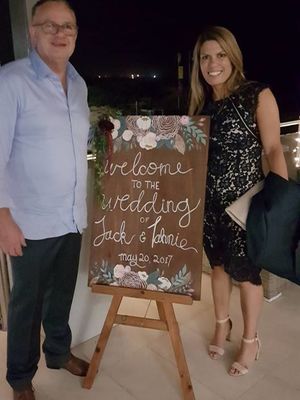 Early in 2017 we took our dog, Leo, to the vets and we were told he needed to lose weight. We decided to do the same. Given the incentive of my son's wedding in May and a holiday to Hawaii in September we thought it was also time to lose some weight and improve our fitness. We contacted Nathan at Vision Sylvania, a long-time friend, and we mapped out our goals and time frames. Then we met Kate!
I had completed my trade training in the RAF at a place called Cosford, also the home to the PTI (Physical Training Instructor) training school. Our course was 18 months long and we "encountered" many PTIs. It was a love / hate relationship and we would help them in their final practical exams if they had been "nice" to us previously. God help them if they hadn't! Now I (we) were going to pay good money to be put through the pain barrier!
Doing 2 training sessions a week, both working fulltime and looking after Leo's exercise regime it was challenging at first. Once we got in to a routine we also started attending boxing, cardio and strength classes. Everyone is so friendly and welcoming. The big boxing sessions, sand dune runs with all the Southern Vision Studios are very enjoyable. We also attended a shopping seminar and learnt more about the good and bad foods and it is only when you look at your food you realise how important it is to read the labelling.
We did have a few setbacks and nearly met our 9 week target, almost 10kg for me and 5kg for Paula. I can honestly say I have never felt better and this would not have been possible without Kate's enthusiasm to push and encourage us both. Big thanks to all the staff at Vision Personal Training who know everyone by their first name and encourage everyone.
We still have more goals to meet but are very happy with our progress and look forward to my son's wedding. Bring on Hawaii!
Huge thanks to my gorgeous Paula who helps me to get to the training sessions and organises our shopping and cooking. I love you xo
Sylvania Success Stories
Our holistic approach to emotions, education, eating and exercise has transformed thousands of people across Australia & New Zealand. Get inspired by the journeys of your latest clients.
Are you our next success story?
Give your goals the greenlight and join us. Book your free consult now.