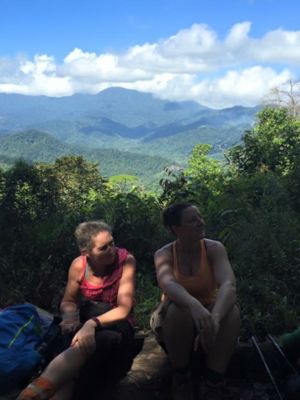 "I love lying on the beach and shopping as much as anyone, but nothing compares to the sheer wonder that comes from experiencing something that is so far outside of your normal life. Travel is part of who I am; exploring new cultures, connecting with different people. But the best part of active holidays is knowing (and feeling) that you're doing something amazing for your mind and body. You can feel yourself getting healthy!"
Holly has achieved so much since she started training with us in 2013. She came to lose weight and increase her fitness and WOW! She has done much more than that in such a short time.
With her nutrition under control and fitness improved she is now focussed on enjoying a wonderful healthy lifestyle. A huge part of that is active holidays.
Holly completed the KOKOKDA TRACK in 2015. She did it without any injuries or drama as she had trained specifically for this. Her resistance training plan focussed on glute and leg strength for walking, core strength to assist with stability, balance and posture as well as upper body strength to enable her to carry her pack for long periods of time. Her cardio fitness was also enhanced through short intense cardio sessions as well as increasing endurance by completing long walks every month along a variety of different trails and routes.
Holly this year went to Burning Man in the Desert where again her health and overall fitness assisted her to enjoy all aspects of the art installations, campsites and interactions with the other 50 000 residents. Cycling through the desert and walking long distances every day was easy for Holly.
In 2018 she will embark on an ambitious cycle from London to Paris. Once again, her training will start early and build body strength and cardio endurance. We look forward to hearing all about it and seeing what's next on your adventure list.
Stanmore Success Stories
Our holistic approach to emotions, education, eating and exercise has transformed thousands of people across Australia & New Zealand. Get inspired by the journeys of your latest clients.
Are you our next success story?
Give your goals the greenlight and join us. Book your free consult now.