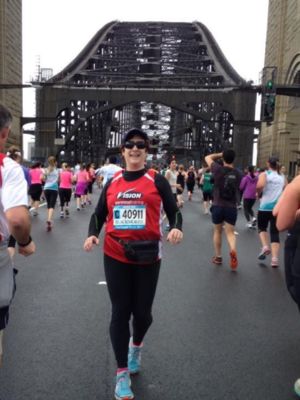 Until 1997 I had been a very active sports person, playing hockey and squash at a fairly high level. Until I tore my hip flexor tendon at a Masters Hockey tournament. It was a long recovery and I looked back over the previous two years at two torn calf muscles and a broken finger - I decided to retire from competitive sport. With teenage children, a house in constant turmoil as we underwent a protracted renovation and stressful work, my spare time was taken up being a couch potato. The only real exercise I took was walking to and from the train for work.
After being made redundant in 2013 I decided it was time to retire, so I found myself looking for a social outlet.
I had heard of Vision Personal Training - I had received a bottle of Vision water at Como station and then I had my car serviced and they provided a Vision complimentary voucher. I didn't know what to expect as I had never been inside a "Gym" before, let alone using the equipment and having a Personal Trainer. I was greeted so warmly by both staff and clients when I joined the Sylvania Studio in May 2013. I was told that Saturday group training was "compulsory" and that coffee afterwards was also "mandated".
I was absorbed into the Vision family and look forward to PT and group training and, of course, the coffee sessions. The people keep me coming back. In my 5 ½ years with Vision I have seen people come for short periods as they achieve their, say, 3 month or 10 kg loss goal. Then there are the people like me who feel supported and have created great friendships and have incorporated Vision as part of their lifestyle. I am still that couch potato at heart and without the accountability of PTs and fellow clients I would be much less of a person than I am now.
I am not one of Vision's success cases in terms of weight loss, although the first six months I did lose almost 12 kg, but most of it has gradually crept back on as I relaxed my regimen.
I was awarded Visionary of 2016 at the Christmas Party which came as a total surprise.
I have participated as a walker in 5 x Blackmores Bridge Runs (this year I was a supporter above Circular Quay station and at the finish line), a couple Oatley Fun Runs, Colour Runs and Sutherland to Surfs (plus one year as a supporter).
Last year I skied for two weeks in Canada and my goal for the 12 months prior was to strengthen my legs (thanks to my PT Jack Caffyn). By doing so, I suffered no leg aches and was able to enjoy skiing the long runs (one was 8 kms), while those around me were complaining of aching muscles.
Doctors have advised, due to osteoarthritis, I will require a hip replacement which causes pain when walking for extended periods and often wakes me at night, but for the time being I will keep working out to delay surgery for as long as possible. I continue with two PT sessions, Thursday morning X-training and Saturday morning either X-training or Walk group. My goals at present are to maintain my strength and lower my Bio Age.
Sylvania Success Stories
Our holistic approach to emotions, education, eating and exercise has transformed thousands of people across Australia & New Zealand. Get inspired by the journeys of your latest clients.
Are you our next success story?
Give your goals the greenlight and join us. Book your free consult now.