Before
After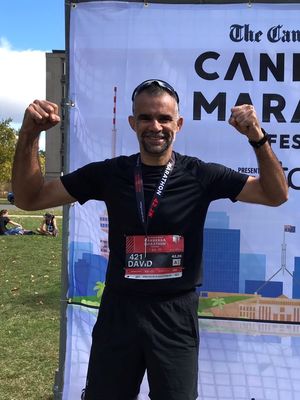 My moment came with corporate photos at a national sales conference for the company I work for. That photo was used online on the company website and via social media and when I did speaking engagements, and I could not help thinking I can do better than this. I was never inactive or lazy, but on reflection I ate too much and the wrong things and drank in excess, although at the time it didn't feel like that.
What Vision gave me was the importance of protein and balancing macronutrients, but most importantly, the structure and accountability that the Vision program brought is what lead to my success. In the first year at Vision, I lost over 25kg and in the subsequent 2 years I reduced by a few more kilograms, essentially maintaining my weight and gaining continuous fitness improvements.
The unexpected development over the past 3 years with Vision is my love for exercise, evolving from very basic movements and increasing to bush walking, weights and now becoming a runner. If for any reason I cannot exercise, I get anxious and irritable, so ultimately, I make the time to make it happen. A few years ago this was unimaginable to me.
In my youth I was a decent rugby player and spent most of my time pushing and tackling; running is what you did in pre-season so we could play the game. It was a burden that had to be carried – now running is a highlight of my week. My development as a runner has been hugely rewarding, starting with competing in 10km races, moving into half marathons and now with one marathon under my belt and a couple more scheduled through the year.
Even though I have lived it, I can hardly believe the change. Nathan my trainer and the owner of the studio has tailored my training to each stage of my progress and aligned it to the goals I want to achieve. The activity levels and type of training has evolved with my body and my goals, including the nutrition, diet information and planning which brings a full rounded picture to the care that is given to each client. It's important to mention the environment and friendly nature of the staff and clientele make it a joy to come to the studio every day. It has been absolutely life changing to join Vision Sylvania and I cannot recommend it enough.
Sylvania Success Stories
Our holistic approach to emotions, education, eating and exercise has transformed thousands of people across Australia & New Zealand. Get inspired by the journeys of your latest clients.
Are you our next success story?
Give your goals the greenlight and join us. Book your free consult now.