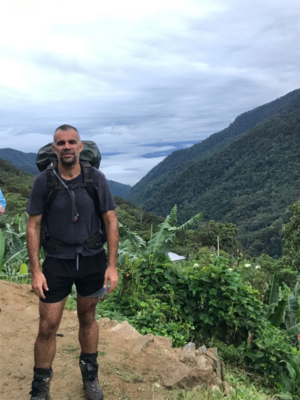 I had been conscience of my weight gain for some time and knew I had to do something about it. Preoccupation with and stress at work had led me to postpone or quit attempts to lose weight and improve my wellness for many years. As a younger man I played competitive Rugby at a relatively high level and after stopping; continued, and later increased, the food level and alcohol intake, without replacing the exercise.
I reached the turning point when we had corporate photos taken at work and I was disappointed with what I saw. I had reached 132kg "I can do better than this." Was my only thought.
I set myself on a goal to walk the Kokoda Trek. But to achieve it comfortably while carrying my pack without assistance of a porter. Understanding how my own motivation works, having such a goal, around an activity I love (Bush walking). I knew would drive the change.
I started to cut down food. Mostly high fat foods and meat, plus walking 6km per day. I lost 13kg but then plateaued and found the diet extremely hard to maintain, I was constantly hungry. I plateaued around this level for some time. In October 2018, looking for alternatives to assist in my journey I stumbled upon Vision.
From the beginning I felt welcomed and the Trainers very supportive. The training which included mostly weights at the beginning was targeted and challenging. The food diary and structure of the macronutrient goals I found very flexible and suited me very well. My PT (Jamie) talked me through a transition toward more protein and less carbs, this alone has made the biggest difference to my weight loss.
I was no longer hungry and I lost 2.7kg in the first week and progressively lost roughly 1 kg per week. The fortunate part for me was partnering with a PT that I got on well with, the training has been fun albeit tough and the progress on weight loss was quite unbelievable. I entered into the Vision Journey, by committing to follow it 100% without deviation.
I am now 94kg, a weight I was at 18. I completed Kokoda comfortably carrying 16kg pack over 9 days. The trek was truly enjoyable due mostly to my fitness, without which I would have struggled. I would never have achieved what I did without the support and structure that Vision and Jamie have given me.
The structure around diet and macronutrients fits well with me, and the environment in the studio is very comfortable and welcoming. I cannot recommend enough.
Sylvania Success Stories
Our holistic approach to emotions, education, eating and exercise has transformed thousands of people across Australia & New Zealand. Get inspired by the journeys of your latest clients.
Are you our next success story?
Give your goals the greenlight and join us. Book your free consult now.