Before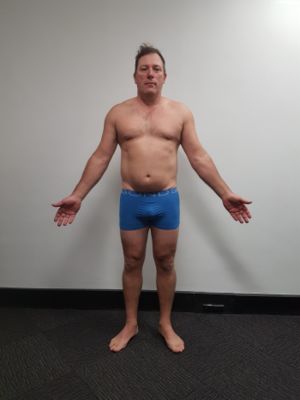 After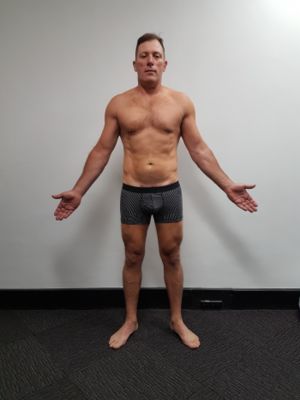 I look at myself in the mirror...
The Vision nine week challenge has made me feel and look great. Before the challenge I would look at myself in the mirror and think "I don't look that bad" and cover it up with clothes, but really, I didn't look that good and wasn't comfortable on the inside. Being 47 years old and my clothes sizes slowly increasing each year and about to go up to the next size, I knew it was time to do something about it, I had to change the story I was telling myself. While I had been to the gym before there was always an excuse as to why the scales were not moving or going the wrong way. My work gets busy so it was easy to always make an excuse why I couldn't make training or find a reason why I had to get takeaway for meals.
When I started my nine weeks my Trainer and I sat down in our goal session and made a plan that was achievable for me. My Trainer and I looked at what the Vision system was saying I needed to do as far as cardio and weight requirements to achieve my goal and then we worked out a plan to suit. With only a few changes here and there, my daily routine didn't alter that much, it just changed for the better. Instead of staying in bed a bit longer in the morning, I got up and went for a walk and when I got back from the walk I felt better than if I had of stayed in bed longer.
I added in a couple of group classes each week that fit my schedule and I was on my way. I got off the beers and wine which was not only good for my health all round and just made me feel better on the inside and look better on the outside.
I printed off my shopping list from the Vision app that I had made for my meal plans and went to the supermarket and got the menu items. I set the different food items aside for each day and took what I needed to work. With just some easy preparation all of a sudden, I had my meals organised for the week. This made a huge difference in my success as instead of not eating at regular intervals and then being starving and just eating anything, I had my meal there and ate that.
During the 9 weeks I had a couple of really big work projects that would have normally been an easy excuse not to go training or grab anything to eat but with my food preparation already done for the week and the support of the Vision Pyrmont Studio Trainers to help keep me on track I stuck with the plan.
Having being a member of other gyms before none of them have offered the support or program that Vision does. The Vision Pyrmont Studio environment is great, all the Trainers are super supportive whenever you come in, they know their stuff. The Vison system is the best, all the online tools you have available to monitor your progress, help decide on your meals for meal plans to match your daily macro allowance, the food diary and it can all be checked on the app on your phone anytime. The group classes are a great way to get in the extra cardio and they are at different times through the week so there was always a class available to fit into your schedule. So, with some small adjustments and some preparation which really were not that hard to change did not affect my daily routine. Small changes-Massive results.
After the challenge, now I look at myself in the mirror and think "Hey I look pretty good". My wife and daughter say I look great as well. It gives you a whole new outlook and definitely has a positive impact on all areas of your life. My clothes sizes have gone down 3 sizes and now shopping for clothes is great. You feel stronger, more confident, more productive at work, just a better feeling all round.
Thanks Vison, your program and system work and I would highly recommend anyone to go and see you guys if they want to improve their life, it works.
Pyrmont Success Stories
Our holistic approach to emotions, education, eating and exercise has transformed thousands of people across Australia & New Zealand. Get inspired by the journeys of your latest clients.
Are you our next success story?
Give your goals the greenlight and join us. Book your free consult now.